Tag Archives:
IG-11
Tamashii Nations (a Bandai brand) revealed a brand new website today, dedicated to "western style" action figures. By this Bandai is referring to action figures based on Hollywood movies and American TV shows. And to celebrate this new website Tamashii Nations is also teasing several brand new figures! The DC line will apparently get a new Wonder Woman, Marvel's new figure is still a mystery to be unveiled on May 27th, and Star Wars will get IG-11! That's at least what the brand new website is teasing.
It was almost guaranteed that S.H.Figuarts would officially reveal IG-11 sooner or later, a promo photo of him was used in the recent solicitations for Baby Yoda aka The Child. Since Hasbro offered collectors a rather lazy version of IG-11, a repainted IG-88 with new bandolier, which is not at all screen accurate, the SHF version of IG-11 could very well be the version of the bounty hunter you need if you demand screen accuracy.
It's not known yet when exactly pre-orders for IG-11 are available, but it will probably be soon. We will keep you posted!
Check out the brand new Tamashii Nations Cinema website (it's in Japanese with only some English headlines)!
SH-Figuarts seem to be on a roll. We only got official announcements for the Mandalorian and the Emperor today, when brand new photos of various (!) Knights of Ren, IG-11 and a repainted Scout trooper and Stormtrooper (from the Mandalorian, with weathered armor!) appear in the wild. The photos were taken at a showroom. Now these are all just prototypes, nothing was announced, but IG-11, for example, is actually an accurate representation of the droid, which means he has the proper claws! Now if only IG-11 has a good height, SHF is usually not so keen on giving tall characters an accurate height, while all the human characters usually have perfect scale. But chances are this IG droid will use very sturdy plastic! And after the lackluster IG-11 from Hasbro a screen accurate IG-11 from SHF could be just what collectors need! It remains to be seen if the KoR will go into production, maybe SHF is waiting for fan response to TROS; so far SHF only has Rey, Kylo and one Sith Trooper for TROS lined up, not very much. SHF love to reveal prototypes of figures that sometimes go into production next month, two years later or never. It remains to be seen what applies here! Click through for a few more photos!
Tonight we start a run of Visual Guide updates featuring figures from The Black Series [Phase III]. First up, check out the Best Buy exclusive IG-11. Click below for our full Visual Guide, and click here to check out our full review.
Next up is the Best Buy exclusive The Black Series [Phase III] IG-11 6″ figure. It's cool. Check it out in our Research Droids Reviews today! Be sure to leave your thoughts in our comments section, vote in the poll or comment about it on our Facebook page. Click the banner below for the direct link to the review! As always, you can also send your review requests via email if you'd like to see something that we didn't cover yet.
Check out these new character posters for The Mandalorian that was shared on the Star Wars official facebook. We can see The Mandalorian, Cara Dune, Greef Carga, IG-11 and Kuiil. We're getting so close and if you're not quite sold, we'll be doing reviews of each episode so you can check it out and those who watched can have a discussion. Disney+ begins streaming The Mandalorian on November 12th! Click each one to get a closer look.
Head on over to Sideshow Collectibles to pre-order the new IG-11 and Mandalorian Sixth Scale figures from Hot Toys! Direct links for each figure are below!
Hot Toys has revealed an all-new 1/6th scale IG-11 figure and now it's up for pre-order!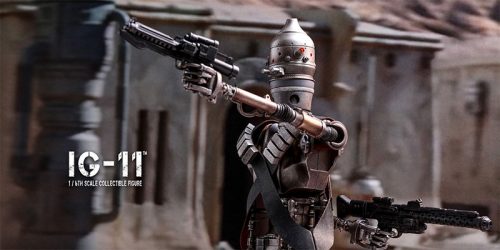 -Click HERE to return to the home page-