Tag Archives:
Knight of Ren
This post contains affiliate links. At no additional cost to you, JTA may receive a commission if you click and make a purchase.
Amazon also has the latest The Black Series pre-orders live. Click below to pre-order Zorii Bliss and Knight of Ren. 
The Hasbro team revealed two more The Rise of Skywalker The Black Series figures today at London Comic Con. Zorii Bliss and a Knight of Ren are coming to the 6″ line. Thanks to the Fantha Tracks team for the live-feed of the presentation.
Let's check out some Visual Guide updates from The Vintage Collection the weekend, starting with Knight of Ren (VC155). Click below for the full Visual Guide page. Make sure you also stop by and read our full review.
That's a wrap! We hope you enjoyed our pre-Triple Force Friday exclusive look at The Vintage Collection wave 23 figures. Good luck acquiring them all beginning 12 AM tonight! Stay tuned for links! If you missed any of our reviews, click any image below so you can catch up!
Posted in
Research Droids Reviews News and Updates
Tags:

3.75" Super-Articulated, Battle Of Yavin, Hasbro, Kenner, Knight of Ren, Luke Skywalker: X-Wing Pilot, Poe Dameron, Rey, Sith Jet Trooper, Star Wars, Star Wars Episode IV: A New Hope, Star Wars Episode IX: The Rise of Skywalker, The Vintage Collection, Zorii Bliss
NEW FIGURES! Let's continue looking at the latest The Vintage Collection figures. Let's move ahead with Knight Of Ren. It will probably be the hottest figure in the assortment, but it's not "that" great. See and learn more in our Research Droids Reviews today! Be sure to leave your thoughts in our comments section, vote in the poll or comment about it on our Facebook page. Click the banner below for the direct link to the review! As always, you can also send your review requests via email if you'd like to see something that we didn't cover yet.
This post contains affiliate links. At no additional cost to you, if you click & make a purchase, JTA may receive a commission.
Another leak, this time VC155 Knight of Ren makes its way to eBay. The auction has ended, but you can check it out right here. Thanks to JTA reader Ruari for the alert! Click the thumbnail below for a larger view. Minor spoilers apply!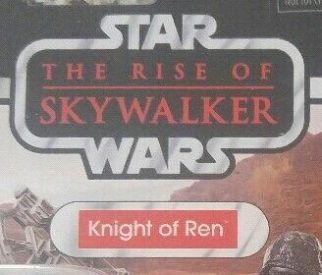 The cover for the upcoming The Rise of Skywalker visual dictionary has been revealed. You get a very good look at one of the Knights of Ren. Also shown on the cover is the all new TIE Dagger (named thusly because it has pointy wings), also the wings seem to have a hue of red, maybe they are piloted by Sith Troopers? Click the image below for an ultra high resolution version of the cover, make sure to expand the photo once you click on it for maximum resolution!
One question still remains: what good are vibro scythe blades in a universe with blasters and lightsabers?
-Click HERE to return to the home page-