Tag Archives:
livestream
Hasbro added a new segment to their livestream this time: Pipeline reveals. There's no product to show, but just giving us a look at what's coming this fall and into 2022. For The Vintage Collection we were shown two upcoming figures: 
IG-11 (The Mandalorian)
Lando Calrissian (The Empire Strikes Back)
Hop on over and join the Hasbro Fan First Star Wars Livestream, happening right now. Afterward, we will distill all the reveals right here!
Hasbro has announced their next Fan First Star Wars livestream. Mark your calendars for Friday, January 29 at 11 AM Eastern. 
Hasbro will stream their next fan first livestream next Monday, June 22nd at 3 pm EST (21:00 for people in Central Europe and 20:00 for people in the UK). Not much is known, other than Hasbro's announcement that they will have some news for TVC fans! You will be able to follow the event on Hasbro's Pulse Facebook page! Let's all speculate what news Hasbro may have for us.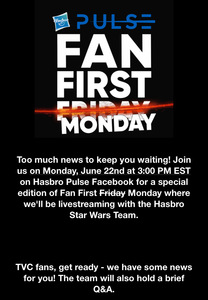 Hasbro is inviting fans to their first ever Fan First Friday livestream on their Hasbro Pulse Facebook page! The stream will begin on May 1st, 12 pm EST (that is 18:00 CET for people in Central Europe and 17:00 for people in the UK). Not only will Hasbro talk about our "favorite Star Wars figure lines", there may also be a few pre-orders available on that day! So mark the date in your calendar and don't forget to join the livestream on May 1st! What do you think may be revealed? SDCC exclusives that will no longer be available at SDCC?
The Triple Force Friday toy livestream revealed an all new Black Series C-3PO with bowcaster, bandolier and a tiny, tiny character called Babu Frik, who is a droid builder.
Also shown was the Black Series Cara Dune figure and the Black Series Jannah figure (looking very nice).
Not a single TVC figure was shown or advertised. TVC was not even mentioned in passing. But a few Lego Sets (Millennium Falcon, Pasaana Speeder Chase), Galaxy of Adventure figures, Funko Pops and the new interactive D-O, which does look like a fun toy, were shown.
If you didn't watch the livestream you didn't miss all that much! It was 45 short minutes, with most segments pre-recorded. But it was cute seeing how much Daisy loved her Black Series figure!
Update: screencaps and a few general thoughts added to the article! Please click through for the new Black Series figures that were revealed!
The official Star Wars website posted the following news a short while ago:
Tune into YouTube.com/StarWars on Thursday, September 26, at 11 a.m. PT / 2 p.m. ET for a special livestream event based at Pinewood Studios in London, the famed shooting location of Star Wars: The Rise of Skywalker. Via live and recorded vignettes, generations of Star Wars icons will reveal new products in advance of their roll out on Triple Force Friday, October 4, all inspired by a trio of the year's biggest Star Wars releases.
Does that mean Daisy Ridley will get to unbox her own action figure? Most collectors will probably not be surprised by any of the announcements. But maybe there is still one or the other surprise left that hasn't leaked on Facebook, Instagram or YouTube yet. Will you watch the livestream?
Head over to Starwars.com for the rest of the details!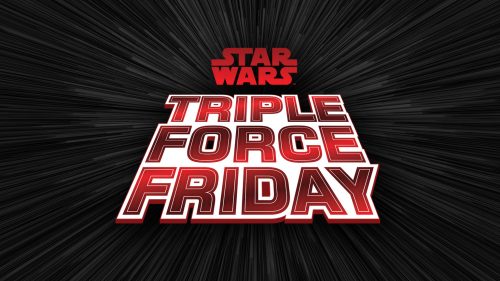 -Click HERE to return to the home page-