Tag Archives:
The Child
A photo of the Black Series Baby Yoda, officially "The Child", has appeared on Twitter. And in true leaker guild fashion the photo was taken by a potato camera. So you can barely see anything, but it appears to be the real deal! Thanks to Steven U for the alert!
Earlier today Hot Toys teased their upcoming Baby Yoda (officially "The Child") products.
The adorable Child with big ears and large eyes is expected to arrive, joining Hot Toys as the incredibly accurate life-size collectible, quarter & one sixth scale collectible and brand new Cosbaby figures that will capture the hearts of many! Stay tuned to our upcoming announcements for the acclaimed line-up inspired by The Mandalorian, Star Wars first live-action series.
So it seems you will be able to choose from several scales. And "Cosbaby" refers to the Hot Toys version of a Funko Pop style cute collectible figure. Stay tuned for more!
If you can't get enough of Baby Yoda, then make sure to stop by and check out this beautiful limited edition 8×10 print by artist Juan Ruiz Burgos. Make sure to also check out some of his other art over on his Instagram page. "Little Bounty" is now open to order, and will be available as a timed-edition release through Sunday (2/2) @ 11:59PM ET. Stop by Bottleneck Gallery to check it out!
We approached Juan with the difficult task of capturing The Child, and it's safe to say he's managed to bring The Child to life. Despite everything our precious fifty year old child has been through, Juan perfectly portrays The Child's wonder and innocence in this portrait piece, and the expression melts our hearts!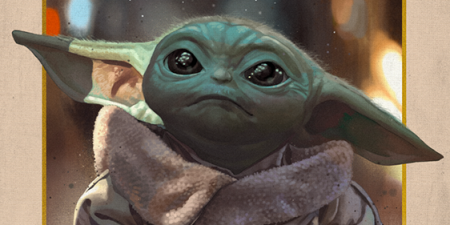 Sideshow Collectibles just opened up pre-orders for a live-size The Child figure, and it's pretty amazing! Click here for the pre-order page and full gallery!
Dork Side Toys just released their new newsletter and out of nowhere they announced new Baby Yoda toys from Hasbro! Click through for all the details and photos!
If you've been holding off on grabbing the Mystery Box or couldn't find it on the shelves alone, the Black Series 6″ Target Exclusive First Order Elite Snowtrooper is now in stock online! And Target is also doing their "spend $50 save $10 or spend $100 and save $25" deal right now, so it's a good time to grab some of your missing items from Target (and yes, all of The Child pre-orders count for this deal).
-Click HERE to return to the home page-