This post contains affiliate links. At no additional cost to you, JTA may receive a commission if you click and make a purchase.
Yup! That's right! For $79.99 you can have your very own interactive snackin' Grogu. Pick yours up at Entertainment Earth!
If you're wondering how to feed the Child, this is the way. The Galactic Snackin' Grogu animated toy comes with 4 interactive accessories (bowl with tentacles, cookie, shifter knob, and spoon) that, when placed in his hand, he will react to with animations and sound effects. Pretend to feed Grogu (The Child) with the series-inspired accessories and he will react to them with eating, yummy, or yucky sound effects! Kids and fans can pat the Galactic Snackin' Grogu toy's head 3 times to activate a 2-handed Force animation, in which he will mimic channeling the Force, inspired by snacking scenes from the Disney+series The Mandalorian.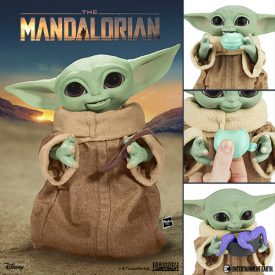 There probably has been no other action figure in Hasbro's long history that has made us more furious than The Child. $12.99 for a couple of accessories? What an embarrassment for Hasbro. This is a $5 MAXIMUM product. The Child was an accessory with Din Djarin, and now it's a basic figure for full price? The pram doesn't make up the difference either! And it's TWO PER CASE?! Is Hasbro insane? Find out why The Child (VC184) doesn't have our blessing. Hasbro needs to realize TVC collectors are NOT TBS6 collectors. We don't accept any MSRP Hasbro sets! (more….)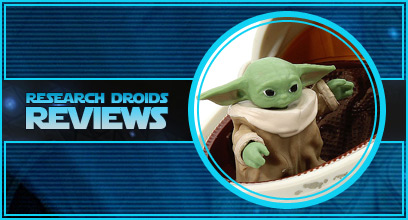 Thank you for reading Research Droids Reviews: Season 12!
Posted in
Research Droids Reviews: Season 12
Tags:

Embarrassment, Fury, Grogu, Hasbro, Kenner, Outrage, Pram, Rip-Offs, Shame, The Child, The Mandalorian, The Vintage Collection
Hasbro may have released their first perfect The Vintage Collection action figure of 2021. The Din Djarin (The Mandalorian) figure set is worth every penny. Do you know why? (more….)
The Amazon exclusive The Black Series [Phase IV] Speeder Bike/Scout Trooper & The Child is pretty nice in some regards, but a disappointment in others. Is it worth $49.99? (No.) Did we need this set to complete an important scene from The Mandalorian? (Yes.) (more….)
How much do The Black Series [Phase IV] 6″ figures have to be before collectors revolt? It feels like we're getting close. The Din Djarin (The Mandalorian) & The Child TARGET exclusive is very nice, but it's not $35 nice! All the newness here is worth considering! (more….)