Tag Archives:
The Book Of Boba Fett
There was a flurry of activity because of this year's Star Wars Celebration as we reviewed the latest wave of The Vintage Collection, so here is your chance to catch up if you missed any of our RDRs. Check out Ahsoka Tano (Corvus), Clone Trooper (501st Legion), Death Watch Mandalorian, Fennec Shand, and Yoda.
Posted in
Research Droids Reviews News and Updates
Tags:

3.75-inch Super-Articulated, 501st Legion Trooper, Ahsoka Tano (Corvus), Clone Trooper (501st Legion), Clone Trooper (Phase II), Death Watch Mandalorian, Fennec Shand, Grand Army Of The Republic, Hasbro, Kenner, Phase II Clone Trooper, The Book Of Boba Fett, The Clone Wars, The Empire Strikes Back, The Mandalorian, The Vintage Collection, Vader's Fist, Yoda
The Vintage Collection Fennec Shand figure not only comes with an alternate portrait, it also has a unique feature! (more….)
The Black Series [Phase IV] Fennec Shand 6-inch figure makes one less action figure to complete for your ER Season 6 cast. Oh, and Ming-Na Wen is supposedly in some Disney Star Wars show too. But how is the action figure? (more….)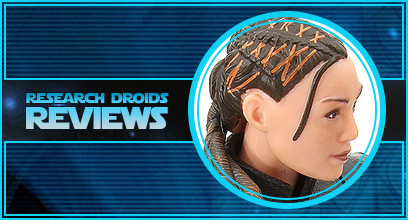 But they could have prevented it. A few additions would have made this a surefire hit, and collectors might not have balked at its price. But wow. That Jabba's Palace Throne Room playset environment is something else, isn't it? That said, you know from the comments that its price is staggering, and collectors are saying "no way." Collectors are being forced into a "direct to market" scenario as it's a Hasbro Pulse exclusive. And there were so many ample opportunities they could have incorporated to make this The Vintage Collection centerpiece shine above anything else released previously. Well, maybe save for The Khetanna. With just about 15 minutes of talking about this item with my good friend John McCartney, we came up with many ideas to guarantee this release some incredibly enormous success (and enthusiasm). (more….)
Posted in

Hasbro, Rants & Raves
Tags:

3.75-inch Super-Articulated, Bib Fortuna, Disney, Disney Star Wars, Egregious MSRPs, Hasbro, Hasbro Pulse Exclusive, Jabba's Palace Throne Room Playset, Kenner, Man-Baby Whining, Playsets, Return Of The Jedi, Star Wars Episode VI: Return Of The Jedi, The Book Of Boba Fett, The Vintage Collection, The Vintage Conversation
To all the kindred in spirit The Vintage Collection collectors: It's time to talk about $26.99 and $20.99 Star Wars action figures that should be $12.99 or $13.99 instead. One of my most-favorite commenters here at JTA, Sven RedBeard, either coined or stole the term "Boba Debt," and I think it's the PERFECT description to let Hasbro know that this insanity must stop. Adding an extra 'hat' does not warrant a $10-$12 increase. This line isn't The Black Series 6-inch line, and it's unacceptable. Hasbro needs to find ways to get back to basics (literally as in basic figures) and cease the overpricing, gouging, and abject disrespect they are showing to the longtime collectors of this line. Just because the action figure is Boba Fett doesn't give Hasbro license to charge $20+ for it, only to release a $12.99 version after they've price gouged us. Something's missing, and none of us should find this acceptable. And Hasbro, you need to right this travesty immediately.
In case you haven't seen it yet, Mattel released a plush Voice Cloned Boba Fett plush doll and they've been arriving at Walmarts. They're very colorful. Special thanks to JTA reader Mike F. for the report and image.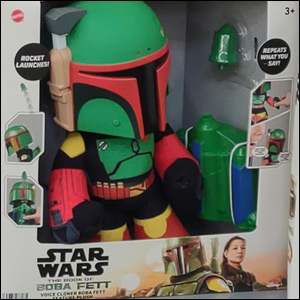 -Click HERE to return to the home page-