Regal Robot has unveiled their latest Concept Maquette, featuring Grogu (The Child). This will be available to pre-order on March 1st. Click here for the product page for additional details and images.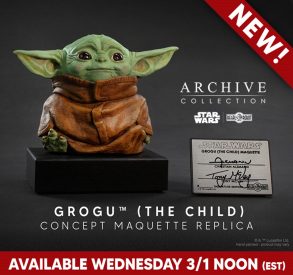 REGAL ROBOT ANNOUNCES A REPLICA OF THE FIRST CONCEPT SCULPTURE THAT LED TO THE CREATION OF BABY YODA! 
Regal Robot™, known for their hand-painted, extremely authentic recreations of original props, characters and production artifacts, has released details about their latest concept maquette replica… GROGU!  
This limited, dual-signature edition is part of the company's Star Wars™ Archive Collection, a continuation and expansion of their work creating authentic replicas with impeccable lineage.
This statue was developed from the original molds for Tony McVey's concept sculpture for the fan-favorite character. Tony's a brilliant sculptor, who's been associated with Star Wars since Return of the Jedi, where he sculpted Salacious Crumb, among many others. 
Tony worked from 2D art crafted by Lucasfilm Concept Design Supervisor, Christian Alzmann and both Alzmann and McVey have signed the plaques that will come with this edition!
Fans can reserve theirs on Wednesday, March 1st starting at Noon EST
For more images and full details about this amazing new bust, you can visit the product reservation page on the Regal Robot website: 
https://regalrobot.com/shop/star-wars/starwars-busts-statues-collectibles/the-mandalorian-grogu-the-child-concept-maquette-dual-signature-edition/
RESERVE YOURS March 1st 2023 at Noon EST!       
Limited Dual Signature Edition, with numbered, metal plaque signed by Christian Alzmann and Tony McVey
Part of the Archive Collection, mastered from original molds
Includes a wood display base and print of the original concept art
Made in the U.S.A. and hand-painted by the talented FX artists in Regal Robot's NY studio, making each a unique work of art
Special up-to-6-Month Payment Plan (with adjustable down payment and term options) available!