Tag Archives:
Force FX Lightsaber
The Black Series role play gets two new Force FX releases. Click below to check out the Darth Revan Force FX Elite lightsaber and the Emperor Palpatine Force FX Elite lightsaber. Look for the Palpatine saber to go up for pre-order at 4 pm Eastern today. 
If you're a lightsaber collector or just want this one specifically, Gamestop.com has Rey (Jedi Training) ForceFX Lightsaber in stock. Interesting that it is called Rey (Jedi Training) instead of just Rey's Lightsaber. She will obviously be constructing a new Lightsaber (in one form or another), so to me this means this is still Anakin or Luke's Lightsaber 🙂
The Gamestop/ThinkGeek/Barnes & Noble Exclusive Guardians of Evil 4-pack is on sale for only $47 at ThinkGeek.com! That's a pretty great deal for this set. Thanks to JTA readers Frank & Ian for letting us know! They also have some other items on sale as well such as Force FX Lightsabers (Even Kylo) for $102, Supreme Leader Snoke (Throne) for $32, and many others.
Entertainment Earth has Rey's Force FX Lightsaber up for pre-order with a December release date.

If you're a fan of the Force FX Lightsabers, then Obi-Wan's is a must! I always hated the fact that the blades were not removable, but in reality they come out easily (most of them) and undamaged if you just want to display the hilt (like I do). JTA Reader and friend sends us a report of finding this at his local Walmart in NJ. It might be time to start checking yours and avoid paying eBay prices. It is a great looking hilt. Are these in your area? Let us know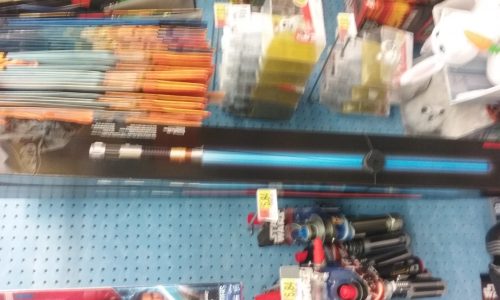 -Click HERE to return to the home page-