Regal Robot has unveiled their latest Concept Maquette, featuring Grogu (The Child). This will be available to pre-order on March 1st. Click here for the product page for additional details and images.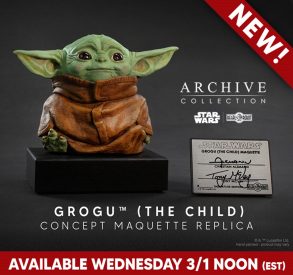 Full Story
Regal Robot presents the Ree-Yees concept maquette. This new edition is an authentic re-creation of the Ree-Yees concept maquette, scanned from the original artifact and with a plaque signed by Oscar-winning FX artist and original character designer, Chris Walas.
Limited to 100 pieces, these will be available on Wednesday at 12 noon EST. Click here for the product page for full details and additional images.
The latest in Regal Robot's Maquette line will be Jabba the Hutt. Full details below…
We've just announced the latest statue in our Maquette Collection. Much like our Tauntaun Concept Maquette Replica, this sculpture caught my eye in classic 80's documentaries about the production of Return of the Jedi and I've long wanted to bring it to life as a faithful recreation that folks could add to their collection. 
It's a limited, numbered edition based on Phil Tippett's original concept sculpture used to bring the infamous character to life. The original has been kept at Skywalker Ranch since production and we're so lucky to get to handle the props and artifacts of these classic films in making our creations. Our replica Jabba was painstakingly digitally recreated from extensive photographs and measurements of that statue. Cast in heavy, solid polyurethane resin and made in the USA, each will be hand-painted, making each a unique tribute to the artistry involved behind the scenes of our favorite films.
Click here for the sneak peek page. This edition will be available to order on August 24th starting at 12 pm Eastern.