Regal Robot
We received an update from Regal Robot for those attending SDCC next week, for those who cannot attend, and how to get their convention exclusive…
For fans who can't make the show, we're offering the exclusive online, but only during the days of the convention from July 17th-21st!  Folks can visit regalrobot.com for the latest info and we'll have a post go up there as soon as they are live and available to order! People who purchase at the show get them right away and at a show special of $20 each. Online, they will be $29 plus shipping and they'll ship about 6-8 weeks from the time of the order.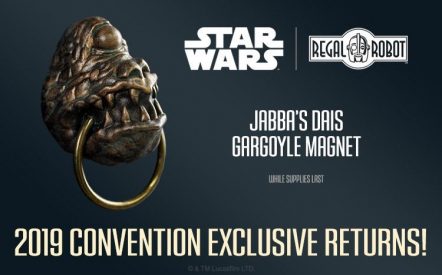 This is what every Star Wars Den needs…
This Star Wars™ desk and chair set was custom-made for a client's studio. She initially reached out to us about customizing one of our Emperor Throne Chairs, and after a bit of brainstorming, we explored a number of Imperial and Darth Vader themed furniture concepts too. Working closely with Lucasfilm, we sketched a number of interesting chairs and furniture based on Darth Vader and the Death Star.  Eventually, we hit on the idea of creating a set based on Vader's iconic meditation chamber in Star Wars: The Empire Strikes Back.
Click through for more details and images!
-Click HERE to return to the home page-