Tag Archives:
General Lando Calrissian
Since Hasbro does not do their due diligence and release the most senseless repacks, we thought we would to help you. If you want to save over $8 on the upcoming  and unnecessary reissued General Lando Calrissian figure, you can get him RIGHT NOW for $4.87 at Walmart's online store. There is no reason to shell out $13+ for a pre-order when Walmart's giving it away as we speak.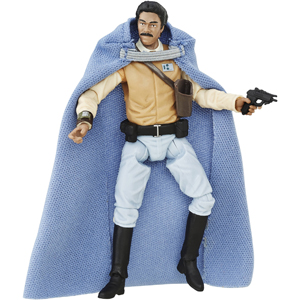 DON'T FORGET TO CLICK THE COIN! Only a few days remain for our exclusive look at the vintage Kenner figures! Let's move right along with the uninterrupted run we're calling "The Final Countdown." These 15 action figures make up Kenner's THE POWER OF THE FORCE series 8 figures. Lando Calrissian (General Pilot) is next in our Research Droids Reviews today. Be sure to add your own experiences to the conversation! Reminisce your own childhood stories of this figure in our comments. Share your life-changing vintage Kenner adolescent experiences with us!
Wow! And here is the Scarif Stormtrooper assortment! You get THREE of them in this case! 3x Scarif Stormtrooper Squad Leader, 3x Captain Cassian Andor, 2x Imperial Death Trooper, 2x Sergeant Jyn Erso, 1x General Lando Calrissian, 1x Admiral Ackbar. Too bad there are too many other unnecessary figures in this case. Pre-order at Entertainment Earth now! By the way, is it just me, or is the absolute most inopportune time to put these up for pre-order. Half of this case will directly compete with The Vintage Collection repacks!
Posted in
Entertainment Earth
Tags:

3.75" Super-Articulated, Admiral Ackbar, Affiliate Advertising, Captain Cassian Andor, General Lando Calrissian, Hasbro, Imperial Death Trooper, Lando Calrissian, Scarif Stormtrooper, Scarif Stormtrooper Squad Leader, Sergeant Jyn Erso, The Black Series [Phase III], Walmart Exclusive
-Click HERE to return to the home page-