Tag Archives:
Lando Calrissian (General Pilot)
The third time is the charm! Hasbro finally perfected The Vintage Collection General Lando Calrissian (VC47) figure. It might be the best-looking figure from this newest wave of repacks. Amazingly, they trimmed down the length of the cape, and it looks SO MUCH better. There are other updates too. We took the time to break it all down for you by producing an all-new 80-image gallery complete with comparison shots, dioramas, and a breakdown of what separates the 2011 version from the 2020 new release in the Collector Notes. These figures are shipping through the "Fan Channel" as we speak, but you can see this excellent figure updated in our RDRs now! There's more difference here than you may realize. The Photo Real technology on this figure is astounding!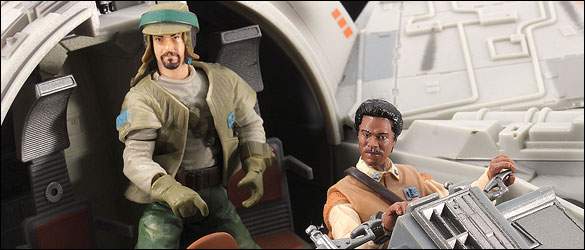 Lando Calrissian (General Pilot) • The Power Of The Force • 1985
DON'T FORGET TO CLICK THE COIN! Only a few days remain for our exclusive look at the vintage Kenner figures! Let's move right along with the uninterrupted run we're calling "The Final Countdown." These 15 action figures make up Kenner's THE POWER OF THE FORCE series 8 figures. Lando Calrissian (General Pilot) is next in our Research Droids Reviews today. Be sure to add your own experiences to the conversation! Reminisce your own childhood stories of this figure in our comments. Share your life-changing vintage Kenner adolescent experiences with us!
-Click HERE to return to the home page-