Tag Archives:
Luke Skywalker (Endor)
We are looking at SE7EN new 3.75-inch The Vintage Collection action figures! If you can forgive the shortcomings of Luke Skywalker (Endor), you'll quickly discover that Hasbro developed an excellent action figure from existing and new parts for your collection. The new head sculpt is astounding, even if the dang helmet doesn't come off of the head! (more….)
The Services Archaeology and Heritage Association Facebook page posted an excellent image of the world's oldest action figure. It's a 1,500-year-old Ceramic Maya figurine with REMOVABLE HELMET, from El Perú-Waka', Petén, Guatemala. If only The Vintage Collection's Luke Skywalker (Endor) from the year 2021 had the same state-of-the-art update included.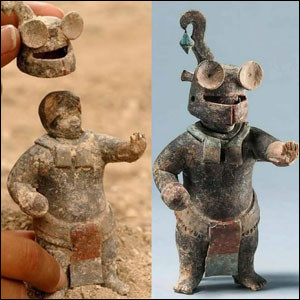 The Luke Skywalker (Endor) 6″ figure is pretty nice, for what it is. It makes us wish for a 3.75″ update too. (more….)
Frustrated collectors often joke about how many repeat action figures we're getting in The Vintage Collection. It's become a chronic issue, that many are relabeling the second coming of The Vintage Collection as "The Repack Collection." Yet, there is a great divide in opinion on how beneficial these repacks are. Getting decade-old action figures updated with Photo Real is a huge benefit in my eyes. And many of the action figures Hasbro chooses to re-release are classics, and I feel deserve another stab at retail. (more….)
Posted in
Hasbro
Tags:

3.75" Super-Articulated, Boba Fett, Boba Fett's Slave I, Clone Trooper, Darth Vader, Gamorrean Guard, General Lando Calrissian, Han Solo (Bespin), Han Solo (Echo Base), Hasbro, Kenner, Luke Skywalker (Bespin), Luke Skywalker (Endor), Princess Leia Organa (Hoth), See-Threepio (C-3PO), The Vintage Collection
If you think that the updated "photorealistic" technology is the only thing that sets apart the 2019 version of Luke Skywalker (Endor) (VC23) from the original 2010 release, you're in for some surprises. Almost a full decade sets the figures apart from each other, and there is more you need to know.
Luke Skywalker (Endor) (VC23) is another one of our favorite reviews in our RDRs. We've also spent hours updating the Photo Gallery (which now sports 76 images and a wealth of comparison shots), updating text and new Editor's and Collector Notes all to educate you on all the newness this figure brings to the table. Click the image below for the full experience! Make sure you're aware of all THREE versions of this figure!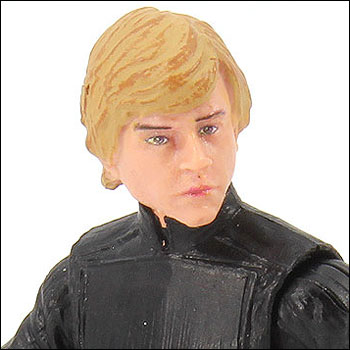 The new The Vintage Collection "repacks" are on TARGET's website too. Remember, all of the human-faced figures are updated with "photorealistic" technology. Currently, all figures are sold out. Eagle-eyed collectors will notice that the names on 75% of these changed from their original release in 2010. Click any image below to be taken to that figure's product page. Special thanks to JTA reader Mark for the alert!
-Click HERE to return to the home page-