Tag Archives:
Sergeant Jyn Erso
Up next for our The Black Series [Phase IV] Visual Guides is the photo-real version of Jyn Erso (RO01). Click below to get the full Visual Guide for this figure. You can also head over to our review database for the full review.
Want to see your action figure photography represented in this Visual Guide? Click here for details and send us your submissions!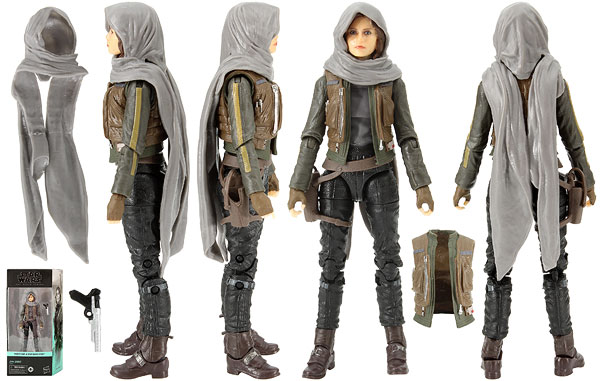 Most of us needed a hole in our head before another Jyn Erso 6-inch figure, but this one is the one you should purchase for your collection. It's the best we'll ever get of this character from Rogue One: A Star Wars Story. (more….)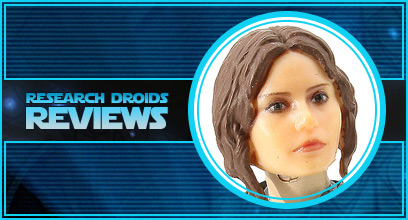 I don't think putting The Black Series [Phase III] 6″ Sergeant Jyn Erso behind locked glass is going to help you sell her, Walmart. It's hard to believe this figure still shows up at some Walmart stores. You'd think the $.03 they marked her down to would have cleared that stock out completely. By the way, this is from my local Walmart and it's looked like this longer than I can recall at this point.
Wow! And here is the Scarif Stormtrooper assortment! You get THREE of them in this case! 3x Scarif Stormtrooper Squad Leader, 3x Captain Cassian Andor, 2x Imperial Death Trooper, 2x Sergeant Jyn Erso, 1x General Lando Calrissian, 1x Admiral Ackbar. Too bad there are too many other unnecessary figures in this case. Pre-order at Entertainment Earth now! By the way, is it just me, or is the absolute most inopportune time to put these up for pre-order. Half of this case will directly compete with The Vintage Collection repacks!
Posted in
Entertainment Earth
Tags:

3.75-inch Super-Articulated, Admiral Ackbar, Affiliate Advertising, Captain Cassian Andor, General Lando Calrissian, Hasbro, Imperial Death Trooper, Lando Calrissian, Scarif Stormtrooper, Scarif Stormtrooper Squad Leader, Sergeant Jyn Erso, The Black Series [Phase III], Walmart Exclusive
The 6th and final figure from the relaunched wave 17 of The Vintage Collection features Jyn Erso (VC119). Click below to check out the full Visual Guide and to take a look at the first Rogue One Vintage-style card back. Make sure to also check out our full review. Look back at all our Visual Guide updates for wave 17 over on our Visual Guides channel.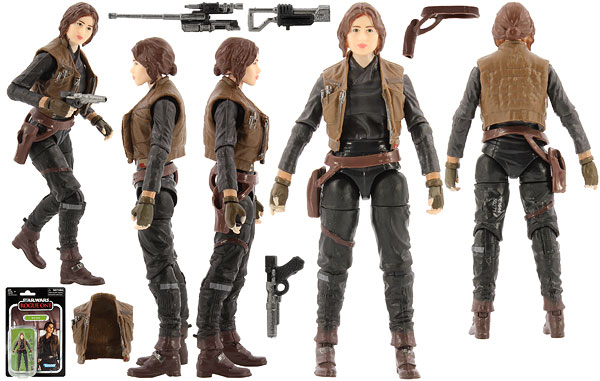 The Vintage Collection wave 17 marathon finishes with Jyn Erso. This figure is still the best of any version Hasbro produced to date. Find out why in our Research Droids Reviews today! Be sure to leave your thoughts in our comments section, vote in the poll or even comment about it on our Facebook page. Click the banner below for the direct link to the review! As always, you can also send your review requests via email if you'd like to see something that we didn't cover yet.
Be sure to check out our full The Vintage Collection archive including all 115 "first phase" figures by clicking HERE.
-Click HERE to return to the home page-