Tag Archives:
Ollie's
The Vintage Collection Han Solo, Hoth Rebel Soldier and First Order Stormtrooper were found by JTA reader Ed D. at an Ollie's in Middletown, NY! Each figure is $5.99 only! Maybe time to check out an Ollie's near you if you still need any of the three figures!
According to this ad, it appears that Ollie's will have new The Black Series [Phase III] 6″ figures for a low $5.99, a remarkable 54% cheaper than The Vintage Collection figures at your local Ollie's beginning August 8th. Let us know of your finds! Special thanks to JTA reader and friend Scott K. for the ad and news.
There is a new development in the closing of Toys R Us. Ollies, who purchased most of their remaining inventory, is now taking over some locations and leasing them out. How bad shape TRU must have been in if a discount chain has enough liquid cash to take over both their inventory AND real estate. CNN has the full story. Special thanks to friend Martin M. for the alert to this news.
This isn't necessarily anecdotal. And it's undoubtedly not hyperbolic. I've never seen the Star Wars brand perform this poorly in my 20+ years collecting. Out of curiosity, I wanted to check my local Ollie's store to see what kind of Star Wars merchandise they acquired from the Toys R Us buyout. And while I found a crapload of stuff, I also found product TARGET gave up on too. Not even the Five Below TVC purge was this voluminous in unwanted Star Wars products. (Half of us never saw those TVC figures until they hot Five Below because it was a terrible distribution issue.) This sale product may sell at Ollie's at reduced prices, but if it didn't move at Toys R Us as they were liquidating everything, why would it sell for higher prices at Ollie's? What a mess.
Although reported right before the summertime, Ollie's discount stores are now receiving Toys R Us' liquidated products. If you have a store near you, it might be worth checking out their stock. Apparently, they've acquired $200 million of Toys R Us' stock, which is pretty astounding. Special thanks to JTA reader Monteleone for the image.
Ollie's is apparently the dumping ground for the ton of unsold Hasbro Star Wars products that either never made it to retail or stuff that retailer gave up on after trying to sell it. JTA reader Edward D. finds something new every day he visits his local store. And the latest addition is the Walmart exclusive TBS [P3] 3.75″ AT-ST. The kicker? It's only $10!
Here we go again. Pallets and pallets of unsold The Force Awakens 5POA are still arriving at Ollie's for $2.99 per figure. Additionally, the Jedha Revoly four-pack is arriving in droves too. You have to wonder if there is any interest for them by collectors to shell out $3 per figure. Your mileage may vary. Special thanks to JTA reader Ed D. for the image and report.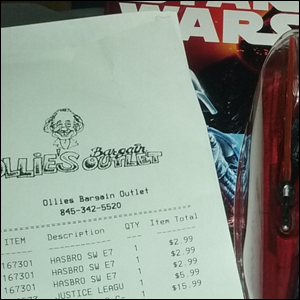 -Click HERE to return to the home page-