Tag Archives:
Exclusives
Available October 30, 2018 exclusively through Amazon.com is STAR WARS™ SMUGGLER'S GUIDE: NOTES FROM THE UNDERWORLD. This is the sixth title in the successful deluxe Secrets of the Galaxy series which includes The Jedi Path, Book of Sith, The Bounty Hunter Code, Imperial Handbook, and The Rebel Files. Pre-order it today!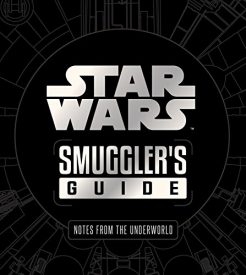 If you are still looking for the TBS6 Supreme Leader Snoke (Throne Room), ThinkGeek.com has it for half price ($19.99). Click here to order. Even better, if you are lucky enough to find one at your local GameStop, order at Gamestop.com for in-store pickup for just $9.99. 
Here's the complete breakdown for the Fall 2017 Hasbro Retailer exclusives. Full press release right here and full gallery right here!
HotTopic.com has a sale on many of their Star Wars items, including Limited Edition Funko Hikari Clone Trooper (only 1500), Limited Edition Metallic Hikari Bossk (limited to 750), and Limited Edition Hikari Bossk (Limited to 1000). You can also find Pop! exclusives like Ahsoka and Poe Dameron and TONS of apparel and posters on sale as well.
Collectors of an enlarged scale of action figures are probably going to start seeing red. Literally. Imagine a matrix of myopic proportions making its way to your collection exclusively. The question is, will you be able to tell them apart?
Following the success of the popular SWCO Thrawn exclusive cover, SDCC attendees will get a chance at an exclusive cover version of Inferno Squad. I'm sad I will be missing out on this one!
-Click HERE to return to the home page-