Tag Archives:
San Diego Comic Con Exclusive
Gentle Giant has opened up pre-orders for the 2021 SDCC exclusive The Mandalorian (Hologram) Legends in 3-Dimensions Bust, limited to just 1000 pieces. Click here for the pre-order page.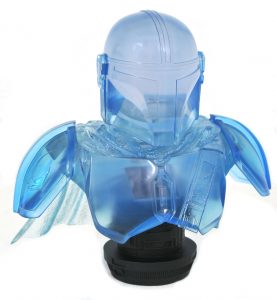 Now that even San Diego Comic Con had to accept reality and canceled the event, the question is what will happen with all the various con exclusives. These have most certainly already been made. But with no con the question remains what to do with these exclusives. Click through for a short discussion!
Hasbro has sent out San Diego Comic Con exclusives, and tonight we have a full gallery for you to enjoy of the Special Action Figure Set (Doctor Aphra Comic Set). The set is very, very nice. Here are some quick points about it. The set is overpriced by about 100%. At most, the set should cost no more than $34.99. Doctor Aphra is an all-new figure. BT-1 (Beetee) is based on the original astromech droid Build A Droid sculpt (it even has the 2008 date stamp on it) but comes with a new dome and some pretty incredible accessories. 0-0-0 (Triple Zero) looks fantastic and should have been sold as a basic figure before Doctor Aphra. It shows that Hasbro still isn't focusing The Vintage Collection toys on the market who will buy it. The tooling on Triple Zero has worn over time, sadly. The parts don't stay on as tightly as they should anymore. Hasbro could have easily glued them on instead, so we're thankful that the figure still has playability. Anyway, check out our complete gallery. The review is about two-weeks out (we have a lot going on right now), but you can check out all of the important stuff now.