Disney Store
There are still from fantastic deals on Disney Store's Premium Elite Series figures (just a few dollars each). We thank JTA reader Blair P. for the reminder!
Get 20% off of merchandise $75 or more at Disney Store with promo code COOLEST. They have Forces Of Destiny dolls in stock and Elite Series are as low as $4.79! Special thanks to JTA reader Agustin for the alert!
Check out the new Elite Praetorian Guard and the First Order Judicial 6″ Elite Die-Cast figures coming out from Disney that made their way to Instagram. This is the first I've seen the name First Order Judicial (heck, it's blurry so I may even have that wrong) and the Elite Praetorian Guard actually looks much better than I originally expected. I hope the Black Series ones look even better! What do you think? Special thanks to JTA reader Al for the heads up!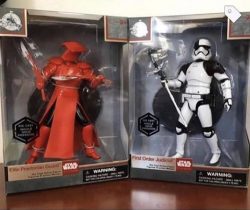 Disneystore.com has a extra 40% off sale going on. By entering promo BONUS40, you can save an extra 40% off already low prices on tons of Star Wars apparel. The promo code won't work on the figures on sale, but they're still very low priced. The Elite Die-Cast for $5.99 or the Premium Elite Series for $7.99. You can also snag free shipping on orders over $50 with promo code SHIPNOW!
Nerdist.com has received an exclusive sneak peek on new upcoming Disney Premium Elite Series figures to be revealed at D23 this year. Click through for the full story!
If you've been holding off on those Premium Elite or Die-Cast figures, now is the time to take the leap! DisneyStore.com is having a 60% off sale. That means 12″ Premium Elite figures are only $11.24 and Elite Die-Cast figures are only $4.49! Make sure to use promo code: EXTRA25 for 25% off and SHIP50 for free shipping on orders over $50. I've been holding off on some Die-Cast figures, but who can turn down $4.50?
-Click HERE to return to the home page-