Tag Archives:
Captain Rex
Do you remember THIS HUGE SURPRISE from a couple of years ago that shockingly showed up online (as well as a few random loose figures at store locations)? The full case assortment doesn't even make an appearance on eBay anymore. How many of the couple hundred collectors who bought the complete set online still have their set? Hasbro denied that any were produced and released, yet a couple of hundred cases made its way to Calendars. It's a terrible shame this collection got canceled. It was home to the yet-to-be-released Clone Captain Rex and A-wing Pilot in addition to the Build A Droid R5-X2 and R8-B7. Wouldn't it be wonderful if Hasbro finally got all four of those remaining figures released one day? You can see all of the officially released Legacy Collection [2] figures in detail HERE.
Posted in

eBay, Hasbro
Tags:

3.75" Super-Articulated, A-wing Pilot, Aftermarket Values, Build A Droid, Captain Rex, Droid Factory, Hasbro, Legacy Collection [2], R5-X2, R8-B7
About a week ago we posted that Captain Rex was showing up at Ross stores in the US. Well, I went to six Ross stores yesterday and was sorely disappointed. Not only did I not find a single Captain Rex, I found something much worse (at more than one store). If you need reminded why this particular Leia figure is essentially terrible, just check out our RDR here. Has anyone had luck finding Captain Rex or the Target 3-pack at Ross? Let us know in the comments!
Full Story
More and more Star Wars collectibles are showing up at discount retailers, and it looks like the next one to hit Ross is Captain Rex. Surprising to me since it's such a good figure, but this probably has more to do with distribution than collectors not buying it at retail. It looks like the search is on once again to find this figure on the cheap. Thanks to Mike Y. and Rand R. from Arizona for the images. Have you found this figure at Ross too? Let us know in the comments!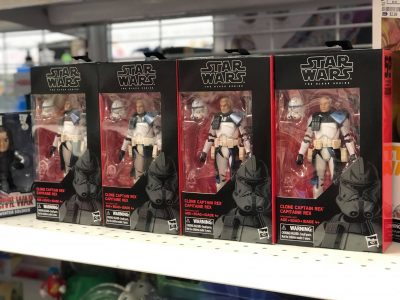 Full Story
The TBS6 [P3] Captain Rex is IN STOCK at Amazon for $19.99! Be sure to choose OTHER options.
Here is a better idea for a basic figure release than Darth Revan! Hasbro, all of us have pleaded for years now begging you to get out the canceled and never-released Captain Rex figure from the planned but then canceled Legacy Collection [2] lineup. In case you weren't aware, The Clone Wars television show is returning, and we're confident fans would rejoice knowing you were going to finally make that canceled and super-articulated 2013 Captain Rex (Phase I) figure a part of The Vintage Collection. We hope you take the advice of the collecting community this time in support of The Clone Wars' return. We need this figure desperately. For those of you unaware, Hasbro planned this figure for 2013's Legacy Collection [2]. The line was canceled and only a few cases of wave 1 made it out. They're some of the rarest figures in the Star Wars brand to date. However, Captain Rex is one of four figures that didn't make it out at all. An A-wing Pilot and two Build A Droid figures (R5-X2 and R8-B7) are also unreleased as of today.
The Hasbro Pulse reveals that Captain Rex will indeed have exclusive packaging and retail for $24.99. Check out the complete article HERE.
Star Wars: The Black Series 6-Inch Clone Captain REX Figure ($24.99 USD): Featuring customized armor decos with distinctive blue markings inspired by the Star Wars: The Clone Wars series, this collector grade figure includes 28 points of articulation, four blasters, premium packaging, and a removable helmet revealing this fan-favorite character's incredibly sculpted face. This item will be an early release with exclusive packaging and accessories!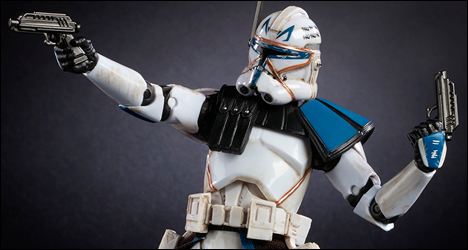 io9 reveals that Captain Rex will make its debut at HASCON this September, before the general public gets to purchase him. Check out this interesting development. Will this be an "exclusive" with different packaging? Is there more to disappoint those that cannot make HASCON?
-Click HERE to return to the home page-