Tag Archives:
AT-ST Driver
Let's continue to move forward with JTA's The Power Of The Force "2" Silver "Jubileap" Celebration! We're looking at some of the better "green" repacks! Next up is AT-ST Driver which is one of the rarest figures in the Freeze Frame Action Slide line! See more in our Research Droids Reviews today! Be sure to leave your thoughts in our comments section, vote in the poll or comment about it on our Facebook page. Click the banner below for the direct link to the review! As always, you can also send your review requests via email if you'd like to see something that we didn't cover yet.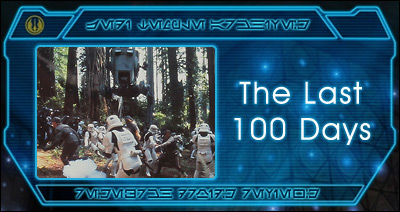 AT-ST Driver • Return Of The Jedi • 1984
Once again, it's hard to believe, but our "Turning Ewokese" marathon of the Star Wars Series 7 Vintage Kenner Mini Action Figures has concluded. If you need to catch up on any of them, all you need to do is click any thumbnail below, and it will take you to the archive. We'd once again like to thank you for your participation. Recounting all of your childhood memories with these unequaled action figures and sharing the wonderful experiences you've all had with them is priceless. Please keep adding to the discussions! Also, please begin to prepare yourselves for more as we dive into December's "The Final Countdown" marathon where we look at The Power Of The Force Series 8 figures which were the last wave of Kenner Star Wars figures of the vintage era. These reviews will focus on the final 15 Kenner action figures and represent some of my fondest memories of collecting as a young person. I am ecstatic to present them to you!
Posted in
Research Droids Reviews News and Updates
Tags:

8D8, AT-ST Driver, B-Wing Pilot, Han Solo (In Trenc Coat), Kenner, Klaatu (In Skiff Guard Outfit), Lumat, Nikto, Paploo, Princee Leia Organa (In Combat Poncho), Prune Face, Rancor Keeper, Return Of The Jedi, Teebo, The Emperor, Wicket W. Warrick
We continue to our "Turning Ewokese" marathon with the AT-ST Driver. It took a long time to get the pilot of the Scout Walker vehicle. Relive your memories of this classic 1984 action figure in our Research Droids Reviews today. Be sure to add your own experiences to the conversation! Reminisce your own childhood stories of this figure in our comments. Share your life-changing vintage Kenner adolescent experiences with us!
-Click HERE to return to the home page-