Tag Archives:
Aayla Secura
It's a wrap! We just finished up our Research Droids Reviews on the greatest of all time The Vintage Collection wave of Clone Wars action figures. We also updated some of the galleries, and included the CORRECT Republic Gunship in the photoshoot because we finally found it! Click any character below to be taken to that review, and stay tuned as we run through the Visual Guides of each character as well.
Up next for our Clone Wars updates is Aayla Secura (VC217). Click below to check out the full Visual Guide, and click here to read up on this figure in our full review.
Want to see your action figure photography represented in this Visual Guide? Click here for details and send us your submissions!
It's like a dream come true. After many years of telling collectors that characters from Genndy Tartakovsky's Clone Wars were off-limits, the tides have turned and Hasbro produced a sub-line of figures based on the micro-series that are as beautiful as they are endearing and nostalgic. Let's take a look at Aayla Secura! (more….)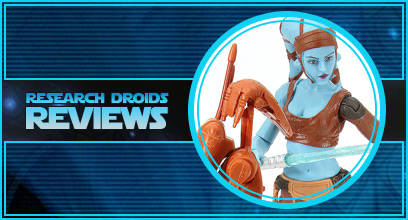 This post contains affiliate links. At no additional cost to you, JTA may receive a commission if you click and make a purchase.
The next two cards from the weekly Topps Star Wars Living Set are now out. Featuring the iconic blue starfield and the impressive artwork of Kris Penix, check out Kazuda "Kaz" Xiono (#109) and Aayla Secura (#110). Each Tuesday, two new cards will be released and be only available for one week. Click here to view the entire Star Wars Living archive, including individual print runs.
HURRY! This WILL NOT last long!
Welcome to another one of our JTA Presents: Evolutions features! Let's check out how close or far we are from having an ideal Hasbro 3.75″ Aayla Secura action figure. Have we arrived at definitive status yet? Weigh in and let us know what conclusion you'll come to by clicking through and adding your two cents in the comments!
Posted in
Evolutions
Tags:

3.75-inch Action Figures, 3.75-inch Super-Articulated, 30 (77-07), Aayla Secura, Aayla Secura (Battle Of Geonosis), Aayla Secura (Jedi Knight), Battle Of Felucia, Battle Of Geonosis, Battle Packs, Hasbro, Jedi Knight, Revenge Of The Sith, Star Wars "Saga" [Phase II], Star Wars "Saga" [Phase III], Star Wars Episode II: Attack Of The Clones, Star Wars Episode III: Revenge Of The Sith, The Vintage Collection, Twi'lek
Aayla Secura made her Star Wars: The Clone Wars debut in "Jedi Crash." This underrated season one episode is probably more fun than you remember. Click the banner below to read the full review!
-Click HERE to return to the home page-