Last week I introduced a new weekly segment called Toy Run Tuesdays. We'll call it TRT for short (if abbreviations are your thing). Today, the first TRT has arrived! Be sure to post photos in the comments. Check out the introductory article if you want to get a better picture of what we're looking for, and the purpose behind TRT (hint: you can still participate if you didn't go to a brick & mortar store). Hop on over to the comment section and show us what you've been up to collecting-wise!
The above speeder I'm making is from a Deseret Industries thrift store find. All they had was Sebulba's podracer cockpit so I decided to make something else out of it. I tried airbrushing it, and, well… I have a lot of work before I get good with an airbrush. I might go over it again with some regular paint so it actually looks good because I like the design I ended up with.
Next was a mail call, and a fine one indeed! Amazon did right by me and shipped my pre-ordered Death Star Gunner in a nice box. I really like this figure. There is so much movement in the neck, and the elbows and knees bend further than 90 degrees! I want to make a custom of the rest of the classes you can play as in the original Battlefront 2 now that I have this figure. You can check out our review of the Death Star Gunner here. I must admit I don't personally agree with Paul's assessment of inadequacy!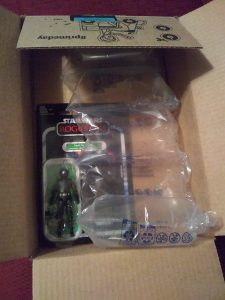 Lastly, a dismal photo of my Walmart… If they were $2 I would buy a few for customs but $8 is just too much. And yes, that whole right peg are Snokes.
Thanks for reading, now get to posting some of your stuff from the last week in the comments!