Tag Archives:
ARC Trooper Captain
The TVC ARC Trooper Captain is currently available on Walmart's website for $13.47. Thanks to JTA reader Craig for the alert!
Holy cow. Hasbro is giving The Black Series collectors the shaft. So much for the line with higher profit margins. As much as we hoped to adore the ARC Trooper Captain, we quickly learned how lazy Hasbro was once again with a new character added to the 6-inch line. (more….)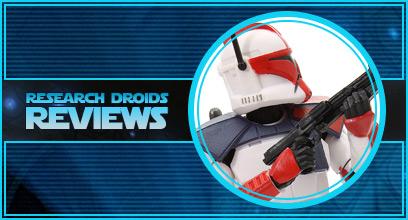 We are wrapping up our Visual Guide updates for the Walmart exclusive wave of Clone Wars figures with the ARC Trooper Captain (VC213). Click below for the full Visual Guide. Here's also the full review of this figure.
Want to see your action figure photography represented in this Visual Guide? Click here for details and send us your submissions!
It's a wrap! We just finished up our Research Droids Reviews on the greatest of all time The Vintage Collection wave of Clone Wars action figures. We also updated some of the galleries, and included the CORRECT Republic Gunship in the photoshoot because we finally found it! Click any character below to be taken to that review, and stay tuned as we run through the Visual Guides of each character as well.
Let's look at the ARC Trooper Captain which is technically a "rehash" in The Vintage Collection. But it can also be seen as a "new" figure too! (more….)
-Click HERE to return to the home page-