Regal Robot has opened pre-orders for their all-new Indiana Jones line. Click through for more details!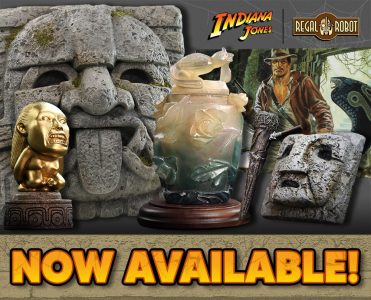 Regal Robot Indiana Jones Creations Available Now!
Regal Robot's debut licensed Indiana Jones creations are now available to order and you can find full galleries of each of their incredible new items on their website. 
In continuing their partnership with Lucasfilm and Disney, the company is creating Indiana Jones decor, prop replicas, and more… all in their unique style.  
There are six debut products in Regal Robot's Indiana Jones line, you can order all of them starting now!
This wave showcases just the first of many new items in this line. Much like the company's Star Wars™ creations, they're making decor, furniture, and direct lineage prop replica artifacts as part of their expanded Archive Collection. These will be made in the USA, most will be hand cast, hand painted, and distressed to look like they've lived a life of adventure!
In true Regal Robot fashion, they're exploring the various niches and traveling to the exotic corners of this franchise we all love and finding unique elements to bring a bit of Indiana Jones style into your home and lives in new ways… and they look to be having a bit of fun while they do it!