Regal Robot has revealed a pretty amazing 1:1 Chewbacca Bust. Click through for their full press release!
Regal Robot reached out with an update on their latest release, the 1:1 CZ-3 Replica Bust. 
This weekend the full product pages for both editions of our life-sized CZ-3 replica bust have gone live with full galleries of photos and details.
This bust was made with a scan from the original prop costume and will be available for purchase on 7/13/20 at noon EST. 
We also posted a QnA that I did with legendary sculptor Brian Muir, who sculpted CZ-3's head for the films and signed the plaques for our signature edition bust. Brian's work on countless films, creating sculptures large and small, is an inspiration to fans, creators and makers everywhere. In addition to CZ-3, Muir had a literal hand in the realization of iconic and enduring characters such as Darth Vader™,  RA-7™ (aka Death Star Droid™), the armor worn by the Imperial Stormtroopers™ and even played a part in developing C-3PO™.  I hope you enjoy our chat as much as I did!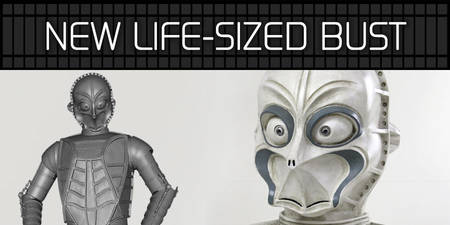 The pre-order is live for the amazing Darth Maul life-size bust. Click here for the pre-order page and additional details.
Sideshow has their Boba Fett Life-Size Bust up for pre-order. Click here for the pre-order page!
Sideshow Collectibles and Legacy Effects have also revealed their upcoming Stormtrooper Life-Size Bust. Click here for the teaser page, and keep an eye out for this upcoming pre-order. 
Sideshow Collectibles and Legacy Effects are previewing their Life-Size Boba Fett Bust. Click here for the full preview page! Look for this pre-order in the near future.