Tag Archives:
YouTube
If you haven't seen Star Wars: Always, the latest fan trailer making its rounds, take a well-deserved 5-minute break and enjoy…
Today I would like to talk about the latest Galaxy Of Adventures short that features Leia. So far, the shorts used audio snippets from the original trilogy movies and more or less faithfully recreated the scenes from the movie using animation. For the latest Leia episode Lucasfilm did something different though, and I feel we should discuss it and what it means for both official canon and the overall franchise going forward. Click through for more details!
Head on over the Star Wars Kids YouTube Channel to check out the first six Galaxy of Adventures animated shorts, featuring Luke Skywalker, R2-D2, Chewbacca and Darth Vader. Each short is about 1 minute and features a fun and well-animated look at scenes from the OT. I enjoyed them for what they were.  The use of original dialog and sound effects was well done. 

Wow! Check it out! Disney is finally strumming the heartstrings of OT fans! A new series of animated shorts [mostly] based on the Original Trilogy is coming called Star Wars: Galaxy Of Adventures! Check out the trailer! Special thanks to all who wrote in to let us know!
UPDATE: Official press release and poster added. Click through for details!
Longtime fans of Ralph McQuarrie and his concept art that inspired a universe will surely enjoy this brilliant fan-made trailer. Click through for an insanely cool concept trailer based on the works of McQuarrie and let us know your thoughts in the comments!
When will Disney concede defeat with The Last Jedi product launch? When will they accept that the way they're doing things doesn't work? They're truly stealing the joy away from new toys. Licensees have clearly been prompted to take action. Check out this YouTube video which the author claims LEGO is going after him now. We are unable to verify the validity of his claim, but it seems like quite a performance if there isn't some smoke and fire here. Either way, we are TWO DAYS away. What's the point of all of this nonsense?
More to file under: You can't make this stuff up. Despite efforts by Hasbro/Disney to pull The Last Jedi commercials from YouTube (as well as the many other places on the web they ended up), JTA reader Jason M. watched one of the same exact commercials in the comfort of his own home on the Cartoon Network. We're NOT kidding. (The videos are still off of YouTube as of this post.) I wonder if the PR firms involved are still scrambling to try and get all of the replicated commercials pulled while they're airing live on television as we speak. Pure insanity!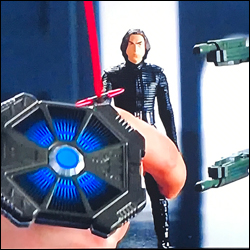 -Click HERE to return to the home page-