JTA reader and wife Darlene, AKA Mrs. Chuck has put together a book review of Star Wars: Knitting the Galaxy. Click through to check out her thoughts and what project she chose!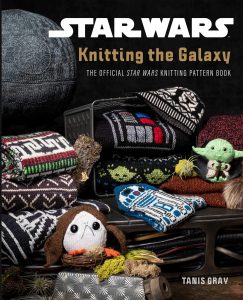 This post contains affiliate links. At no additional cost to you, JTA may receive a commission if you click and make a purchase.
I have the privilege of being the wife and mother of 4 handsome fellas.  My life has been filled with soccer games, smelly tennis shoes, the sounds of video games, and of course, Star Wars.  In an effort to relax and not worry about the normal rough and tumble boys growing up and dear Mr. Chuck in the middle of it having fun, I picked up knitting.   
So, when this book came out by Tanis Gray, called "Star Wars – Knitting the Galaxy" that combines both of my loves, I knew I had to have it.  
There are so many fantastic patterns inside, that it was hard to choose which one to begin with…but in the end, it was Princess Leia's snow vest pattern.
Since I love blue, I chose Wool of the Andes 100% Peruvian Highland wool bulky weight yarn – color Ciel from Knit Picks. 
It is a soft yarn, easy to work with, and perfect for the project.  To make sure that my gauge would be correct, I made a swatch, so that the vest would fit perfectly when it was finished.
The pattern was very easy to follow and well written.  The details and explanations were clear.  I did not have any trouble understanding what I was supposed to do for each pattern row.
I did find that I needed to keep track of my rows in the Diamond Lattice stitch, so I placed a small piece of post-it and moved it after I finished a row.  It allowed me to remember my place when I had to stop knitting to take care of the fellas.  I also used a post-it to keep track of how many decreases I had completed once I was working on the shaping for the left, right, and neck areas. 
Once the vest was completed, I wove in the ends, hand-washed it with Soak detergent and blocked it to dry. 
The finished project turned out fantastic and I get compliments on it every time I wear it.