Tag Archives:
Luke
The Vintage Collection repacks with new "photorealistic" deco are BACK IN STOCK at Amazon!! A couple of them have "used-good" options if you were planning on opening them anyway.
Click HERE for Darth Vader
Click HERE for Han Solo (Echo Base)
Click HERE for Luke Skywalker (Endor)
Click HERE for Princess Leia (Hoth)
Today I would like to talk about the latest Galaxy Of Adventures short that features Leia. So far, the shorts used audio snippets from the original trilogy movies and more or less faithfully recreated the scenes from the movie using animation. For the latest Leia episode Lucasfilm did something different though, and I feel we should discuss it and what it means for both official canon and the overall franchise going forward. Click through for more details!
Darkside Toys has listed the European Exclusive wave of Vintage Collection repacks for pre-order. I've been including these in my overall list of TVC figures being released this year, but perhaps that skewed the results a little since they are European exclusives. No images of carded samples of these figures (or the 41st Clone Trooper) have been spotted as far as I know, so hopefully we'll see them at NY Toy Fair. If you live in a European country and missed out on these figures, here is your opportunity to get them!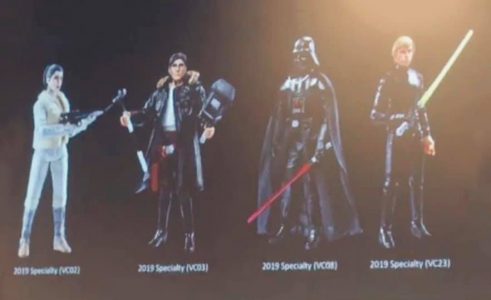 -Click HERE to return to the home page-