Tag Archives:
Rebel Commando
Welcome to another entry in our The Vintage Collection: The Ninety Six column. Hasbro recently committed to collectors that they will be "focusing" on characters in The Vintage Collection that fall under "The Ninety Six" banner. If you're new to this, it means that there needs a modern counterpart for every classic Kenner figure. Between 2020 and 2021, Hasbro's made an admirable effort by focusing on these characters. But there is more work to be done, and we'll figure out where we are step by step. Today we assess Rebel Commando.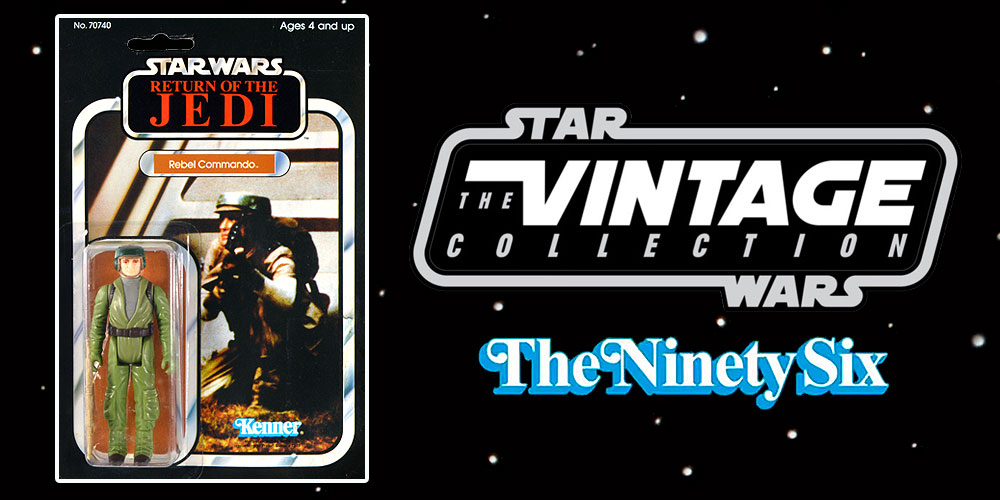 In 1984, new packaging for Star Wars figures was introduced for the European market. A cost containment initiative, the new packaging sported three languages of the Return Of The Jedi logo for a "one size fits all" approach. Although a "three-logo" design was created for The Power Of The Force line (as evidenced on some 'boxed' toys), it wasn't carried over to the basic figure line's card design. They continued to use the three Return Of The Jedi logos instead. Although the word "Trilogo" is found nowhere on the packaging, the term is universally adopted by all Star Wars collectors to describe this line of figures.
Today we revisit Rebel Commando. For the Trilogo art, they dramatically recolored the character, seemingly to match the action figure inside of the bubble. The color scheme is notably different than the Kenner version. See the full card art and additional notes by revisiting 1983's RETURN OF THE JEDI Rebel Commando figure HERE.
The Star Wars "Saga" line gave us "Troop Builder" sets. Let's now check out the Endor Troop Builder Set which was also a Fan Club exclusive in 2002. See more in our Research Droids Reviews today! Be sure to leave your thoughts in our comments section, vote in the poll or comment about it on our Facebook page. Click the banner below for the direct link to the review! As always, you can also send your review requests via email if you'd like to see something that we didn't cover yet.
Posted in
Research Droids Reviews
Tags:

3.75-inch Action Figures, Battle Of Endor, Endor Rebel Soldier, Endor Troop Builder Set, Fan Club Exclusive, Hasbro, Rebel Alliance, Rebel Commando, Star Wars "Saga" [Phase I], Star Wars Episode VI: Return Of The Jedi, The Power Of The Force "2" [Freeze Frame/The Kenner Collection], Troop Builder Sets
Rebel Commando • Return Of The Jedi • 1983
It's hard to believe, but our "Jabba Don't Preach" marathon of the Star Wars Series 6 Vintage Kenner Mini Action Figures has concluded. If you need to catch up on any of them, all you need to do is click any thumbnail below, and it will take you to the archive. We'd once again like to thank you for your participation. Recounting all of your childhood memories with these unequaled action figures and sharing the wonderful experiences you've all had with them is priceless. Please keep adding to the discussions! Also, please begin to prepare yourselves for more as we dive into November's "Turning Ewokese" marathon where we look at the Return Of The Jedi Series 7 figures. These reviews will focus on 14 Kenner action figures from the second and third waves of the Return Of The Jedi line, and we're very excited to tackle them.
Posted in
Research Droids Reviews News and Updates
Tags:

3.75-inch Action Figures, Admiral Ackbar, Battle Of Carkoon, Battle Of Endor, Bib Fortuna, Biker Scout, Chief Chirpa, Emperor's Royal Guard, Gamorrean Guard, General Madine, Kenner, Klaatu. Lando Calrissian (Skiff Guard Disguise), Logray (Ewok Medicine Man), Luke Skywalker (Jedi Knight Outfit), Nien Nunb, Princess Leia Organa (Boushh Disguise), Rebel Commando, Ree-Yees, Return Of The Jedi, Squid Head, Star Wars Episode VI: Return Of The Jedi, Weequay
Our "Jabba Don't Preach" marathon continues with the Rebel Commando figure from the Battle of Endor. We still don't have a decent modern replacement to this figure. Relive your memories of this classic 1983 action figure in our Research Droids Reviews today. Be sure to add your own experiences to the conversation! Reminisce your own childhood stories of this figure in our comments. Share your life-changing vintage Kenner adolescent experiences with us!
-Click HERE to return to the home page-