Tag Archives:
Playsets
This post contains affiliate links. At no additional cost to you, JTA may receive a commission if you click and make a purchase.
Holy cow! The Walmart exclusive Kessel Mine Escape playset is less than $10 at Walmart online. Special thanks to JTA reader and friend Mark for the alert! If you want to know why you need this fun set, see our review of it HERE!
If you're interested, TARGET has placed their exclusive Vandor-1 playset on sale for 60% off. Special thanks to all who wrote in to let us know!
Well, we're conflicted. The Vandor-1 Heist playset is visually stunning (and intriguing). But we don't know if this is the right direction for Hasbro Star Wars playsets. See what we have to say about this in our Research Droids Reviews today! Be sure to leave your thoughts in our comments section, vote in the poll or even comment about it on our Facebook page. Click the banner below for the direct link to the review! As always, you can also send your review requests via email if you'd like to see something that we didn't cover yet.
Star Wars Plastic Playsets has revealed pictures of an amazing 3D designed playset. Based on the Bespin scenes from The Empire Strikes Back (your favorite Star Wars), it features the carbon freezing chamber (obviously), a bespin hallway, an "I am your father" bridge, and several other features. Click through for more!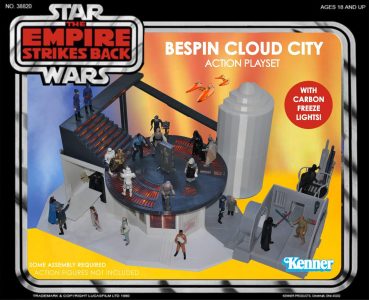 Full Story
We're talking about one for a fair price too! How can Mattel make a Batman vs Superman Ultimate Batcave Playset (FOR 6″ FIGURES NO LESS) for less than $100; something that stands four feet high, mind you, and Hasbro can't make a 3.75″ scaled Death Star with enough bang for under $250? Yeah, yeah, yeah, licensing fees, whatever. Still, something just doesn't jive anymore. Special thanks to JTA reader and friend Mark for the dose of reality.
With the relative success and accolades the BB-8 2-In-1 Mega Playset has attained, it would make sense if Hasbro continued a playset type of product with a pack-in figure, wouldn't it? We hope to see them take advantage of the playset market more consistently and see them keep it in the $129.99 to $149.99 range. It goes without saying that a new Star Wars film is the best time to do that sort of thing.
-Click HERE to return to the home page-