Happy Holidays! Next up for The Black Series Holiday Edition Visual Guide updates is the Clone Trooper (Holiday Edition). Click below to have a look at the full Visual Guide page. You can also click here to check out our full review.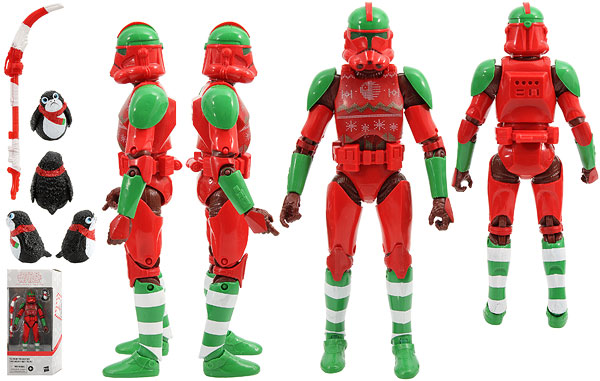 We're moving forward with our six-day run of holiday-themed Star Wars collectibles. Today we're going to look at The Black Series [Phase IV] Clone Trooper (Holiday Edition) figure. This one comes with an anachronism. We identify where all the parts come from for you. The detailed review is the same for all five figures that are part of this assortment, but each character has a unique Photo Gallery. Oh, and be sure to check out the reference image in each review featuring the digital manipulation prowess of JTA reader and friend Alientek You're going to love them! (more….)
Thank you for reading Research Droids Reviews: Season 12!
The Clone Trooper Mission Fleet figure is another excellent toy. The figures and vehicles in this line are highly-detailed and generally look fantastic. This one is based on a 2005 Revenge Of The Sith Deluxe figure. Check out to see what all the fuss is about with this line! (more….)
We're almost done checking out various commemorative multipacks. Let's look at the Revenge Of The Sith Clone Troopers set which was a Walmart exclusive. it's the focus of our Research Droids Reviews today! Be sure to leave your thoughts in our comments section, vote in the poll or even comment about it on our Facebook page. Click the banner below for the direct link to the review! As always, you can also send your review requests via email if you'd like to see something that we didn't cover yet.