Tag Archives:
Vader's Fist
Hasbro, we will give you proper congratulations for choosing the RAREST The Vintage Collection figure to re-release for us. But is there any way you could think outside of the box and go a step further? How much more would it have belabored you to include an alternate helmet of the 332nd Company (Ahsoka Tano's Clone Trooper), so we can pair them with the glorious Ahsoka Tano (Mandalore) (VC202) figure you just released. Let us get this straight. We have The Black Series [Phase IV] version of this character and a 5-inch Galaxy Of Adventures version, but you can't include a second helmet and give it to us in a 3.75-inch scale. You hurt us! We know "newness" to a figures counts as a new figure, but it would have been WORTH IT here. Oh, and please continue to pick candidates from JTA's Top 25 Better Choices For The Repack Case Assortments poll.
Let's continue our Visual Guide updates for the Target exclusive The Black Series figures commemorating the original The Clone Wars line of figures. Next up is ARC Trooper Echo. Click below for our full Visual Guide page, and click here for our in-depth review.
Today begins Research Droids Reviews Season 13! ARC Trooper Echo wasn't part of the 2008/2008 The Clone Wars [Blue] line either, but this is a gorgeous figure. (more….)
We finally get OOM-10 in the Fan Channel exclusive Galactic Republic Celebrate The Saga multipack. But it's a crappy 5POA version. It's maddening! (more….)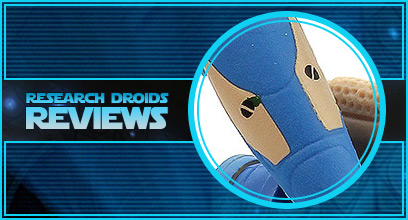 Thank you for reading Research Droids Reviews: Season 12!
Posted in
Research Droids Reviews: Season 12
Tags:

3.75-inch 5POA, 501st Legion Trooper, Battle Droid Commander, CC-2224, Celebrate The Saga, Clone Commander Cody, Clone Trooper (Phase I), Commander Cody, Fan Channel Exclusive, Galactic Republic, Hasbro, OOM-10, Phase I Clone Trooper, Shock Trooper, Vader's Fist
Another Sideshow Collectibles Deluxe release was the Deluxe Clone Trooper (501st). Click below to visit our newly added Visual Guide. Click here to visit our review.
-Click HERE to return to the home page-