Tag Archives:
Jakks Pacific
Most of you here on JTA certainly know of Funko and their Pop! figures. While many commenters here wonder who might ever buy these vinyl figures and some even consider them a plague, Funko seems to be a winner at the toy aisle. The company sees sustained growth and it seems Funko Pop! figures will not go away, but become even more ubiquitous. Time to take a quick look at some numbers and statistics, including shelf space at Walmart & Target. Which also includes numbers for Hasbro. So click through for more!
Fortune.com has written a fantastic article on why the Toy Industry would suffer if Toys R Us goes belly up. I have heard and seen many comments by readers 'happy' or 'indifferent' to see TRU's demise because of various reasons, but there is a bigger picture. And Fortune goes into detail about it. Check out the article and then come back here to comment.
Jakks Pacific, known by most here for making large scale Star Wars figures, reports a net loss for 2017 of 83.1 million USD.
2017 saw fewer sales for Star Wars, Frozen and Tsum Tsum. Net sales for the fiscal year were 613.1 million USD, which is 13.1% less than in 2016. This is in line with the overall downward trend for Star Wars toys in 2017. Jakks Pacific cites various reasons for the loss but singles out the TRU bankruptcy in the US as a contributing factor and less interest in some film licenses.
Have you bought a Jakks Pacific Star Wars figure in 2017?
You can read the full press release here.
This brisk pace could affect DIS, MAT, HAS, JAKK. Finally! Kimberly Chin from Business Insider has written an article on how the frequency of the Disney Star Wars films (in addition to other factors) may not be ideal for the licensees trying to make money from the merchandise of these blockbuster films. Business Insider has put together a great article which develops excellent points including (1) Disney's stock was flat even after its latest "Star Wars" flick reported a great box office weekend. (2) Movie sales may not translate into consumer product sales, according to Jefferies Analyst Stephanie Wissink. (3) The frequency of "Star Wars" movie releases may challenge merchandise sales for each movie. This article is worth checking out. It has been a topic we have discussed at length right here at Jedi Temple Archives. Now here it from the people who understand this professionally.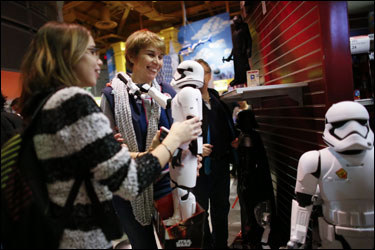 JTA reader Bryan L. alerts us to an upcoming TARGET ad at TotallyTarget.com which not only confirms TARGET's already known participation in Force Friday II, but also that they'll be offering similar discount coupons like they did with the original Force Friday event. Check it out!
Walmart.com has the Deluxe BB-8 for only $26 if you choose to have it shipped to the store for pick up! That is a great price for this huge BB-8 complete with lights, sounds, and of course the thumbs up lighter.
Here we go again! Retail seems unable to abide by street dates for another round. New Force Friday II product is being leaked. JTA reader and Facebook user Eric S. has found these items at his local Toys R Us. Bad TRU, bad!
-Click HERE to return to the home page-