Tag Archives:
Wicket
Welcome to another entry in our The Vintage Collection: The Ninety Six column. Hasbro recently committed to collectors that they will be "focusing" on characters in The Vintage Collection that fall under "The Ninety Six" banner. If you're new to this, it means that there needs a modern counterpart for every classic Kenner figure. Between 2020 and 2021, Hasbro's made an admirable effort by focusing on these characters. But there is more work to be done, and we'll figure out where we are step by step. Today we assess Wicket W. Warrick.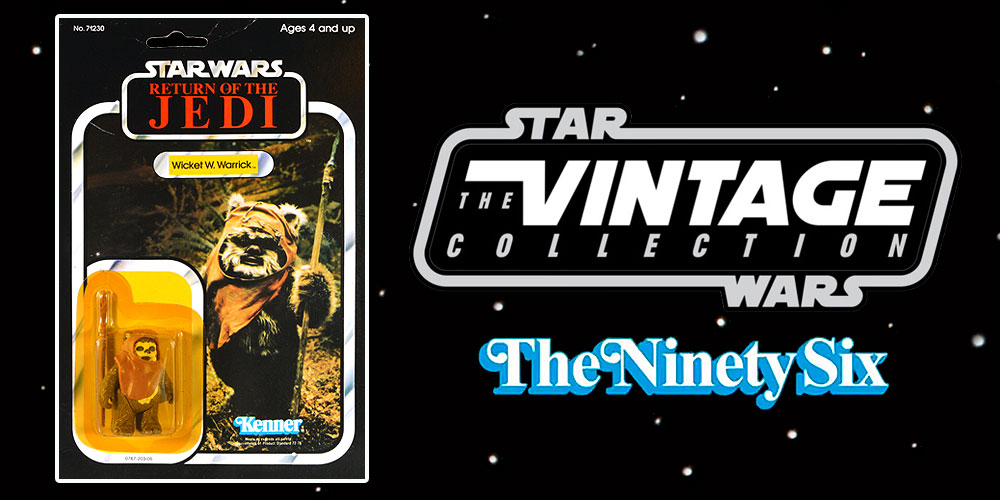 In 1984, new packaging for Star Wars figures was introduced for the European market. A cost containment initiative, the new packaging sported three languages of the Return Of The Jedi logo for a "one size fits all" approach. Although a "three-logo" design was created for The Power Of The Force line (as evidenced on some 'boxed' toys), it wasn't carried over to the basic figure line's card design. They continued to use the three Return Of The Jedi logos instead. Although the word "Trilogo" is found nowhere on the packaging, the term is universally adopted by all Star Wars collectors to describe this line of figures.
Today we revisit Wicket W. Warrick. The Trilogo card art colors are quite different than the Kenner version. See the full card art and additional notes by revisiting 1984's RETURN OF THE JEDI Wicket W. Warrick figure HERE.
JTA reader and friend Scot G. found the latest The Vintage Collection repacks wave including Wicket, Obi-Wan Kenobi (TCW), Anakin Skywalker (TCW), and Darth Maul at his kocal TARGET in Texas. You can see all of our updated and expanded galleries on all four figures HERE, as well as the new figures in the wave. If you're looking to purchase these figures, use DPCI 087-16-6045.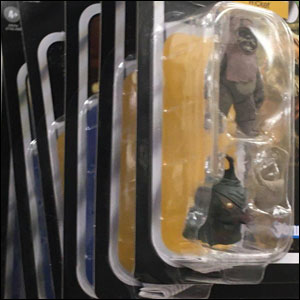 The Vintage Collection Wicket (VC27) re-release is an odd choice. But we're thrilled to report it might be the best evidence of Phot Real deco in all The Vintage Collection. While imperfect, Hasbro got Wicket very close to screen-accuracy with updated deco focusing on the cowl as well as the figure's fur and facial features. For The Vintage Collection "2.0" lineup, Wicket received a significant amount of updating. In our opinion, Wicket's Photo Real deco is stunning. Star Wars collectors now have FIVE carded versions to track down of Wicket (VC27). We took the time to break it all down for you by producing an all-new 100-image gallery complete with both versions (2012 and 2020) featured, comparison shots, diorama shots with Kenner's Star Wars: Ewoks figures, and a breakdown of what separates the two releases in the Collector Notes. Check out this excellently updated figure in our RDRs now! There's more difference here than you may realize.
Hot Toys continues to release original trilogy Star Wars characters. The company now revealed an all new Endor Leia and Wicket figure. While Leia is the standard Hot Toys figure, Wicket will have actual fur. You can get both of them together in a deluxe set, which will come with two exclusive imperial helmets as accessories (so Wicket can play the helmet-xylophone). But you can also get each figure separately. Check out more photos on the official Hot Toys website!
Welcome to another one of our JTA Presents: Evolutions features! Let's check out how close or far we are from having an ideal Hasbro 3.75″ Wicket W. Warrick action figure. Have we arrived at definitive status yet? Weigh in and let us know what conclusion you'll come to by clicking through and adding your two cents in the comments!
Posted in
Evolutions
Tags:

3.75-inch 5POA, 3.75-inch Action Figures, 3.75-inch Super-Articulated, 30 (77-07), Battle Of Endor, Bright Tree Village, Ewok, Princess Leia Collection, Rebels, Star Wars Episode VI: Return Of The Jedi, The Original Trilogy Collection, The Power Of The Force "2" [Green/Freeze Frame], The Vintage Collection, Warrick Davis, Wicket, Wicket W. Warrick
Toys R Us released two exclusive multipacks for The Original Trilogy Collection. We're checking out both of them. First up is Endor Ambush. It's not a great set at all. Find out why in our Research Droids Reviews today! Be sure to leave your thoughts in our comments section, vote in the poll or even comment about it on our Facebook page. Click the banner below for the direct link to the review! As always, you can also send your review requests via email if you'd like to see something that we didn't cover yet.
Posted in
Research Droids Reviews
Tags:

Battle For Endor, Biker Scout, Endor Rebel Soldier, Ewoks: Wicket & Logray, Han Solo, Han Solo (In Trench Coat), Logray, Logray (Ewok Medicine Man), Rebel Trooper, Scout Trooper, Speeder Bike, Star Wars Episode VI: Return Of The Jedi, The Original Trilogy Collection, Toys R Us Exclusive, Wicket, Wicket W. Warrick
-Click HERE to return to the home page-