Tag Archives:
Endor
Welcome to another entry in our The Vintage Collection: The Ninety Six column. Hasbro recently committed to collectors that they will be "focusing" on characters in The Vintage Collection that fall under "The Ninety Six" banner. If you're new to this, it means that there needs a modern counterpart for every classic Kenner figure. Between 2020 and 2021, Hasbro's made an admirable effort by focusing on these characters. But there is more work to be done, and we'll figure out where we are step by step. Today we assess Chief Chirpa.
Good morning, Toy Runners! I hope you have had a good week in Star Wars, and I look forward to seeing your finds! This week we have been shuffling furniture around and I have a new shelf for my dioramas. They are always a work in progress, but I have a good start on my Endor and Desert planet set-ups, so I wanted to share those with you today! Click here to take a look and please share your finds in the comments below!
Full Story
In 1984, new packaging for Star Wars figures was introduced for the European market. A cost containment initiative, the new packaging sported three languages of the Return Of The Jedi logo for a "one size fits all" approach. Although a "three-logo" design was created for The Power Of The Force line (as evidenced on some 'boxed' toys), it wasn't carried over to the basic figure line's card design. They continued to use the three Return Of The Jedi logos instead. Although the word "Trilogo" is found nowhere on the packaging, the term is universally adopted by all Star Wars collectors to describe this line of figures.
Today we revisit Luke Skywalker (Jedi Knight Outfit). As one of the most popular action figures of 1983, not much was done to update the card art of the figure for the Trilogo run. See the full card art and additional notes by revisiting 1983's RETURN OF THE JEDI Luke Skywalker (Jedi Knight Outfit) figure HERE.
Han Solo (In Trench Coat) • Return Of The Jedi • 1984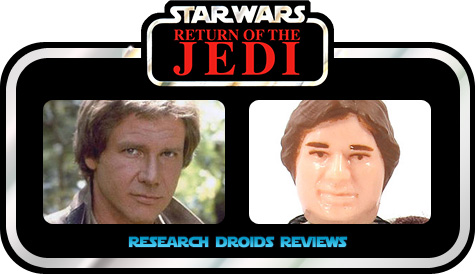 Hot Toys announced an all new Luke Skywalker (Endor) figure today. You can either get the standard or the deluxe version. The deluxe version will exclusively include an additional head sculpt with an interchangeable all-new hair sculpture, an extra piece of interchangeable battle damaged right hand, dark grey tunic with belt, and the Tatooine sandstorm goggles and cloak as seen in the deleted scenes. Click either of the links to see lots of photos.
-Click HERE to return to the home page-