Tag Archives:
Figrin D'an
Did you know The Vintage Collection Figrin D'an is like 75% reused parts? You didn't expect that, did you? We didn't either. We broke this figure down by "the good," "the bad," and "the ugly." You'll not want to miss this review today. (more….)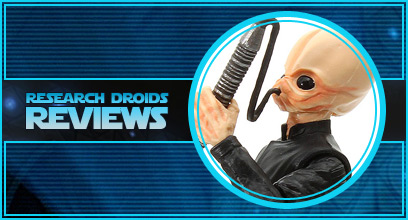 Yay! Another Original Trilogy character enters The Black Series 6-inch figure line, and this one is NICE. Check out Figrin D'an with three instruments. It's the lead member of the Modal Nodes. (more….)
The next two cards from the weekly Topps Star Wars Living Set are now out. Featuring the iconic blue starfield and the impressive artwork of Kris Penix, check out Figrin D'an (#317) and Chairman Papanoida (#318). Each Tuesday, two new cards will be released and be only available for one week. Click here to view the entire Star Wars Living archive, including individual print runs.
Hasbro has revealed both the figure and packaging to the long-overdue Figrin D'an action figure. It comes with multiple instruments, but not all of them, so it looks like Hasbro is going to milk this tooling. We can't wait to see what they offer next! Keep the OT stuff coming! Special thanks to our friends at Star Wars Figuren for the alert!
For me, the "in the pipeline" reveal of Figrin D'an in The Vintage Collection was one of the highlights of Hasbro's latest fan event presentation. One of the most notoriously overlooked characters from A New Hope that never made it into the Kenner line (the closest we got was a painting of them in the Creature Cantina playset), the modern line didn't do us that many favors either. The action figures of these characters were either exclusive releases, grouped in a multipack, or came in a white box without any fancy packaging. The Vintage Collection Figrin D'an will be the first carded Bith character in the basic figure line…. ever. How amazing is that? Its inclusion also makes me want to ask a few questions to Hasbro. (more….)
-Click HERE to return to the home page-