We finally have "most of" Figrin D'an And The Modal Nodes in The Vintage Collection. We won't complain much here, but we don't understand why they did omit a major player in the band. Is this worth the $90 it commands? (more….)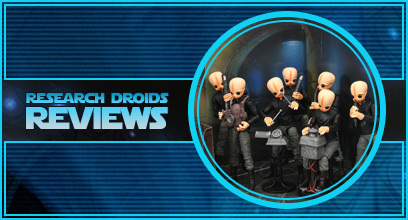 Thank you for reading Research Droids Reviews: Season 14!
Posted in
Research Droids Reviews Season 14
Tags:

3.75-inch Super-Articulated, Bandfill, Bith, Chalmun's Cantina, Doikk Na'ts, Dorenian Beshniquel, Drums, Fanfar, Figrin D'an, Figrin D'an And The Modal Nodes, First Kloo Horn, Hasbro, Hasbro Pulse Exclusive, Kenner, Lirin Car'n, Mos Eisley, Nalan Cheel, Ommni Box, Second Kloo Horn, Sun'il Ei'de, Tech M'or, Tedn Dahai, The Vintage Collection
The Walmart exclusive Tech (With Ommni Box) (Cantina Band) Collector Series figure is excellent. See why in our Research Droids Reviews today! Be sure to leave your thoughts in our comments section, vote in the poll or comment about it on our Facebook page. Click the banner below for the direct link to the review! As always, you can also send your review requests via email if you'd like to see something that we didn't cover yet.