We finally have "most of" Figrin D'an And The Modal Nodes in The Vintage Collection. We won't complain much here, but we don't understand why they did omit a major player in the band. Is this worth the $90 it commands? (more….)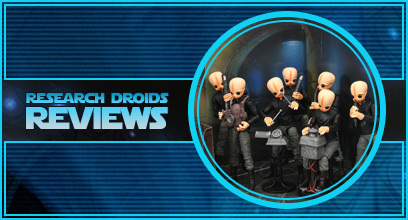 Thank you for reading Research Droids Reviews: Season 14!
Posted in
Research Droids Reviews Season 14
Tags:

3.75-inch Super-Articulated, Bandfill, Bith, Chalmun's Cantina, Doikk Na'ts, Dorenian Beshniquel, Drums, Fanfar, Figrin D'an, Figrin D'an And The Modal Nodes, First Kloo Horn, Hasbro, Hasbro Pulse Exclusive, Kenner, Lirin Car'n, Mos Eisley, Nalan Cheel, Ommni Box, Second Kloo Horn, Sun'il Ei'de, Tech M'or, Tedn Dahai, The Vintage Collection
Figrin D'an (VC249) is our next addition to the Visual Guides. Click below for the full guide page. Click here to check out our full review.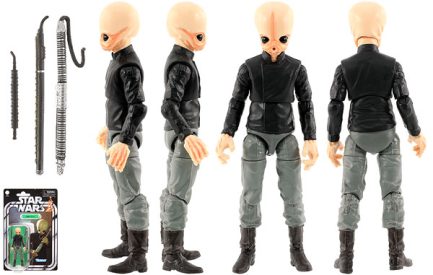 Did you know The Vintage Collection Figrin D'an is like 75% reused parts? You didn't expect that, did you? We didn't either. We broke this figure down by "the good," "the bad," and "the ugly." You'll not want to miss this review today. (more….)