I've continued to work on customs and build my collection with new releases over the last few weeks. There are two troopers I finished customs of, and both are gaping holes in the ranks of Star Wars soldiers. I'm sure we'll get one of them soon, and the other… we'll see. Take a look at these customs and let me know if you think figures like them should make their way into Hasbro's release schedule.
Ever since Solo came out over 4 years ago, I fell in love with the design aesthetic of the movie. One of the coolest trooper variants came out of that movie: the mudtrooper. Paul rumored that the figure would be coming in 2019 to The Vintage Collection, but unfortunately that never came to fruition. Now, 3 years later, with the release of Migs Mayfield (Morak), we are closer than ever to having a mudtrooper! So close, in fact, that I couldn't help myself and made my own. Of note, the 5poa force link mudtrooper head fits a barbell joint from Migs perfectly.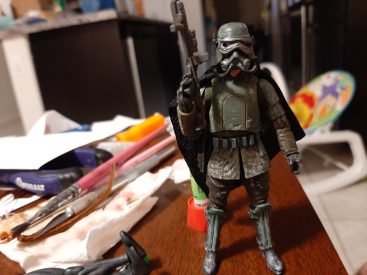 Another trooper that could do with a revisit from Hasbro is the Endor Rebel Commando. The trench coat version we got in The Vintage Collection is a wonderful figure, but does not encapsulate the look that the majority of on-screen soldiers had in ROTJ. Most troopers had a tan vest with either a camo jacket under it or just a tan shirt. The tooling exists for the vest, and Colonel Cracken makes for a perfect Endor Commando. If Hasbro chooses to make all-new Endor Commandos for the ROTJ anniversary though, I won't be disappointed.
What do you think? Should these make it into the Vintage Collection? Let us know in the comments.