Toy Fair is here! Stop by our detailed gallerys and reports to see just how team JTA spent THEIR Valentines Day weekend...
Special Reports and Gallery Pages
---
LEGO Collectors Party
LEGO hit another home run this year with their LEGO Collectors Event. This year, they decided to have their event on Sunday morning, bright and early! The early time was worth it though, as lucky attendees walked away with a very special 10-year anniversary chrome Darth Vader packaged in a very cool display box. This is limited to just 100 pieces.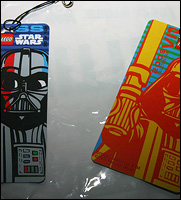 Read our full report on this unique collectible right here
---
drop us an email and we will be happy to add you to the roundup!