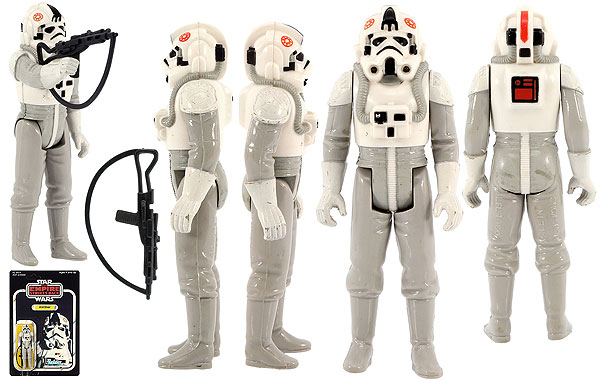 The AT-AT Driver is a figure I distinctly remember in my youth. It was cool imaging how this "Stormtrooper's" armor was changed to become an AT-AT Driver. As young Star Wars fans, we often compared the various members of the Galactic Empire to each other and itemized the strikingly similar characteristics between them. The AT-AT Driver was a much-needed figure if you owned the Imperial AT-AT. And many of us acquired multiple AT-AT Driver action figures to populate the massively large vehicle. Loved the AT-AT Driver's weapon and how he was able to wear it over his shoulders when not in use. His hands weren't too functional, unfortunately. So I found him most useful at the steering wheel of his exclusive mode of transportation. The AT-AT Driver was barely seen in THE EMPIRE STRIKES BACK, so Kenner used a promotional image which looked a whole lot like a costume-fitting to use for the figure's card back. Even stranger, the Tri-Logo version received heavy alterations which "erased" most of the detail in the chest armor. A great figure, the AT-AT Driver remains a favorite for me from the vintage Kenner line.
Hasbro's Most Definitive Modern Counterpart: 2015's REBELS AT-AT Driver (SL18) SAGA LEGENDS figure.
Name: AT-AT Driver
Collection: The Empire Strikes Back
Source: The Empire Strikes Back
Release: 1981
Status: AT-AT Driver is an all-new figure.
Assortment: No. 39379
UPC: N/A
Retail: $1.99 USD
Alternate Card Art Details:
• AT-AT Driver (Conducteur du AT-AT)

• Trilogo

• Packaging features an odd, alternate image with most of the torso details airburshed out.
Market Value: Click here to check the latest prices based on

listings.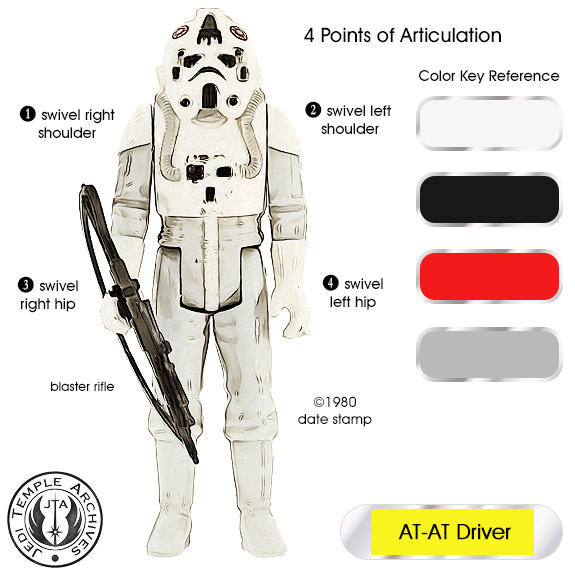 Figure Release Information
Major Figure Variations (loose): None
U.S. Card Back Release Information (confirmed to exist)
ESB-41A
ESB-41C
ESB-41E
ESB-47

ESB-48C
ROTJ-48
ROTJ-65A
ROTJ-65B

ROTJ-77A
ROTJ-79A
POTF-92
U.S. Card Back information derived from the Kellerman Book Matrices and confirmed samples
Research Droids Data Analysis