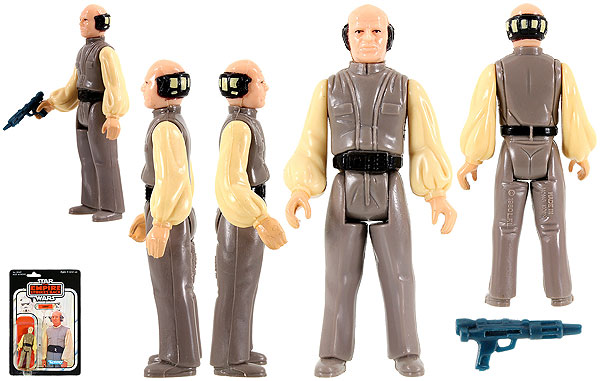 It's probably a fair assessment that for most of my childhood years I thought that Lobot was an amalgamation for "Lando's Robot." Of course, I knew that Lobot was a human cyborg, or more accurately a human with a computer for a brain, but his name led me to believe that maybe he was all robot after all. Lobot was another figure much like Dengar and Ugnaught that we could easily find at any retailer we visited. I was guaranteed to see him hanging on one of the pegs. I suppose he wasn't my generation's first choice for a new action figure. I didn't have much bias as a young collector. I had my favorites, but part of me loved all of the great Kenner Star Wars action figures equally. If I got bored with my favorites, I'd develop new adventures with the ones I tended to ignore. Lobot's silence in THE EMPIRE STRIKES BACK made him all the more interesting to me. But I have felt this way about many cool characters that appear onscreen and say next to nothing when it comes to their dialogue. I loved the scenes in THE EMPIRE STRIKES BACK where Lobot gets awakened from Lando's call for help, and I particularly like the scene in the carbon freezing chamber when Lobot looks to the left to catch Lando's body language after getting more bad news from Darth Vader. Sometimes it's the little things in Star Wars films that leave indelible marks on you.
Hasbro's Most Definitive Modern Counterpart: 2021's THE VINTAGE COLLECTION Lobot (VC223) figure.
Name: Lobot
Collection: The Empire Strikes Back
Source: The Empire Strikes Back
Release: 1981
Status: Lobot is an all-new figure.
Assortment: No. 39349
UPC: N/A
Retail: $1.99 USD
Alternate Card Art Details:
• Lobot

• Trilogo

• Packaging features an alternate image of character not used anywhere else in the Kenner line.

• Character name pill and figure backer are red.
Market Value: Click here to check the latest prices based on

listings.
Figure Release Information
Major Figure Variations (loose): None
U.S. Card Back Release Information (confirmed to exist)
ESB-41A
ESB-41B
ESB-41D
ESB-45A

ESB-47
ESB-48C
ROTJ-48
ROTJ-77A
U.S. Card Back information derived from the Kellerman Book Matrices and confirmed samples
Research Droids Data Analysis