Wow. The memories that come rushing to my mind with 2-1B are almost overwhelming to me. I absolutely adored 2-1B as a child. One of the most interesting things and strongest memories I have growing up with the figure is that I never had the medical tool. Whether it was accidentally thrown out in the garbage with the rest of the packaging, or instantly lost somewhere in the cracks of our planked hardwood floors, I'll never know. One of the clearest memories I have with 2-1B is repeatedly attempting to full his hollow torso cavity with water. It sounds strange, but I wonder if the liquid in the bacta tank where Luke Skywalker was healed inspired me to make 2-1B a type of aqua droid. (Too bad we never received a vintage Luke Skywalker figure wearing a diaper.) 2-1B came with a removable mouthpiece that erroneously attached to the droid's side (it should have attached to its right breastplate instead). Throughout the year Hasbro made some great 2-1B figure (both Original Trilogy and Prequel Trilogy inspired versions), but until we get an all-new sculpt in vintage Kenner inspired packaging, I don't feel we have an acceptable definitive version as of now.
Hasbro's Most Definitive Modern Counterpart: 1997's THE POWER OF THE FORCE "2" [GREEN/FREEZE FRAME] 2-1B Medic Droid figure.
Name: 2-1B
Alternate Name: Too-Onebee (2-1B)
Collection: The Empire Strikes Back
Source: The Empire Strikes Back
Release: 1981
Status: 2-1B is an all-new figure.
Assortment: No. 39399
UPC: N/A
Retail: $1.99 USD
Alternate Card Art Details:
• Too-Onebee (2-1B)

• Trilogo

• Packaging features altered coloring and a different crop when compared to the American Kenner version of the action figure.
Market Value: Click here to check the latest prices based on

listings.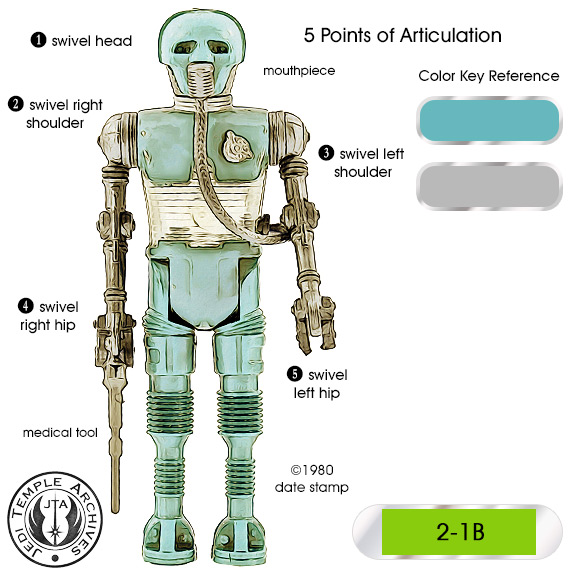 Figure Release Information
Major Figure Variations (loose): None
U.S. Card Back Release Information (confirmed to exist)
ESB-41A
ESB-41B
ESB-41D
ESB-45A

ESB-47
ESB-48A
ESB-48B
ESB-48C

ROTJ-48
ROTJ-65B
ROTJ-65D
ROTJ-77A
U.S. Card Back information derived from the Kellerman Book Matrices and confirmed samples
Research Droids Data Analysis