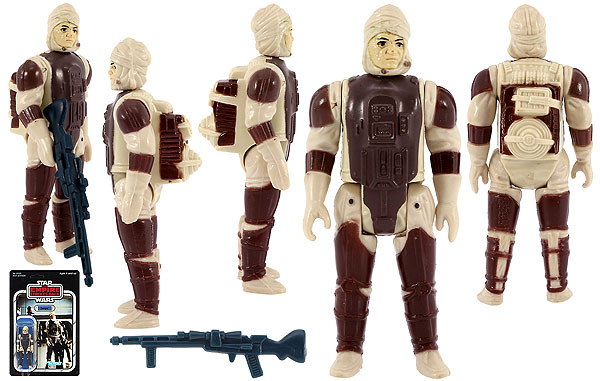 I have always been fond of Dengar. But he is another figure, just like the Ugnaught, that piled up on the pegs at most of the store I visited as a child. He looked like a hospital patient in a body cast more than anything else to me, and I often wondered how he sustained the scarring on his face. Did he make Boba Fett or IG-88 or Bossk mad one day? Or was he so bad himself that he always got into scuffles, hence his very rough complexion? As the Expanded Universe grew, we learned more about Dengar. Some of the writings were pretty bad, but others were pretty good. Still, you knew he was a direct competitor of Boba Fett, and no one could ever beat Boba Fett, right? As we reached completing the half-dozen bounty hunters in the vintage Kenner THE EMPIRE STRIKES BACK line between 1980 and 1982; it felt like every release was more exciting than the next. But after the luster of the new characters wore off, most of us deferred back to Boba Fett as our highest-ranking favorite. By the way, has anyone else noticed that Hasbro releases and re-releases bounty hunters in the modern line very similar to how Kenner released them back in the day? But I still had a soft spot for Dengar. And I still do today. It's always been my opinion that less is more when it comes to knowing stuff about the many bounty hunters in Star Wars. I imagine there are exceptions to this opinion. And because I only relate to Dengar through his few seconds onscreen in Episode V, I think it's why he remains a longstanding favorite Kenner action figure to me after all of these years.
Hasbro's Most Definitive Modern Counterpart: 2010's THE VINTAGE COLLECTION Dengar (VC01) figure.
Name: Dengar
Collection: The Empire Strikes Back
Source: The Empire Strikes Back
Release: 1981
Status: Dengar is an all-new figure.
Assortment: No. 39329
UPC: N/A
Retail: $1.99 USD
Alternate Card Art Details:
• Dengar

• Trilogo

• Packaging features a new crop of the standard card art image of the character.
Market Value: Click here to check the latest prices based on

listings.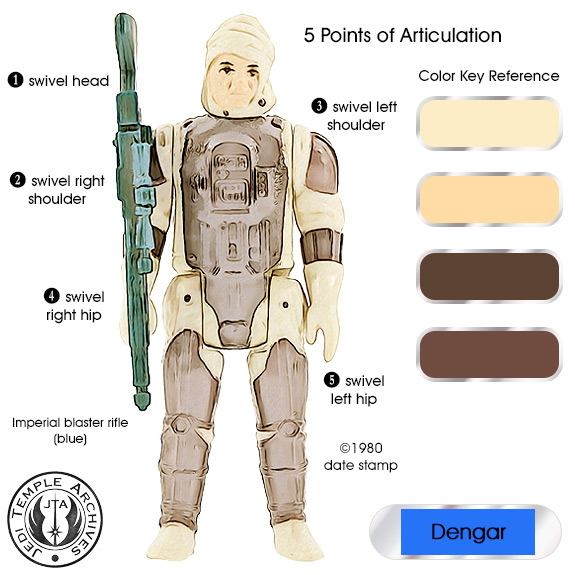 Figure Release Information
Major Figure Variations (loose): None
U.S. Card Back Release Information (confirmed to exist)
ESB-41A
ESB-41E
ESB-47
ESB-48B

ROTJ-48
ROTJ-65A
ROTJ-77A
ROTJ-77B
U.S. Card Back information derived from the Kellerman Book Matrices and confirmed samples
Research Droids Data Analysis