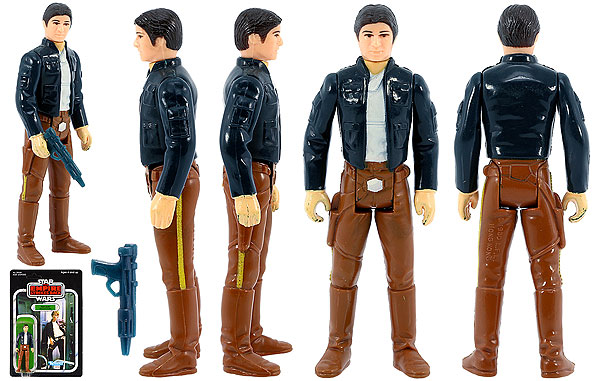 It's the Han Solo figure that every other Han Solo action figure wanted to be and more. Han Solo (Bespin Outfit) brought the onscreen character to life in a new and improved way that previous version had been unable to achieve. As far as young collectors were concerned, this was the Han Solo figure to own. Han Solo (Bespin Outfit) was the coolest looking hero our eyes feasted upon up to this point in the Kenner Star Wars toy line. And for me, he remains a perennial favorite. Not only has this action figure left an indelible mark on my life, so has his commercial. Who doesn't remember THIS commercial? The commercial has permeated its way into my psyche as much as the figure has. Han Solo (Bespin Outfit) looks a lot like actor Harrison Ford, and he brilliantly complemented other great figures in The Empire Strikes Back line like Leia (Hoth Outfit), Leia Organa (Bespin Gown) and Chewbacca (and many others). I cannot recall any specific store experience as a child. He isn't one that sticks out in my mind that I saw on shelves. But I must have seen this figure at some point in the 80s because we managed to accrue two of them in our household. I never understood why he came with the same Bespin blaster as Lando Calrissian and Lobot, but then again, very few vintage Kenner figures came with weapons that looked like the ones they utilized in the film. It would be some time before Kenner outdid themselves with a great looking Han Solo action figure, but Han Solo (Bespin Outfit) will remain one of their finest accomplishments in their eight-year legacy with the (original) Star Wars brand. Kenner also packaged Han Solo (Bespin Outfit) in a Sears exclusive Cloud City Playset release. It provided a wonderful backdrop of Bespin while allowing us to recreate the unforgettable scene where Han Solo was frozen in carbonite.
Hasbro's Most Definitive Modern Counterpart: 2011's THE VINTAGE COLLECTION Han Solo (Bespin Outfit) (VC50) figure.
Name: Han Solo (Bespin Outfit)
Collection: The Empire Strikes Back
Source: The Empire Strikes Back
Release: 1981
Status: Han Solo (Bespin Outfit) is an all-new figure.
Assortment: No. 39339
UPC: N/A
Retail: $1.99 USD
Alternate Card Art Details:
• Han Solo (Bespin Outfit)

• Trilogo

• Packaging features a slightly darker image of the Kenner release.
Market Value: Click here to check the latest prices based on

listings.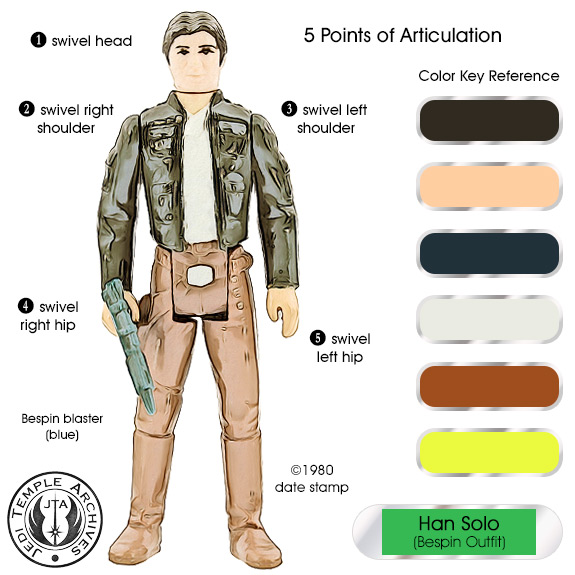 Figure Release Information
Major Figure Variations (loose): None
U.S. Card Back Release Information (confirmed to exist)
ESB-41A
ESB-41B
ESB-41D
ESB-45A
ESB-47

ESB-48C
ROTJ-48
ROTJ-65B
ROTJ-77B
ROTJ-79B
U.S. Card Back information derived from the Kellerman Book Matrices and confirmed samples
Research Droids Data Analysis