Hello everyone! Several Tuesdays have passed since the last TRT, but I'm back, baby! More like I'm back from having a baby… I've been on paternity leave these last 3 weeks. While I wish it was longer, I must return to my regular duties, which also means I have time again to write Toy Run articles. I hope to see lots of comments here and in the coming weeks! I didn't have a lot of time to hunt, but I still received quite a few toys in the mail. Click here to take a look!
First off, if you "would like to see the baby" I am happy to oblige.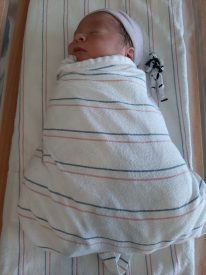 Both he and mom are doing well. It's always a scary and exciting time bringing a new one into the world. I am sure to expose my children early to Star Wars (as you can see). We actually got visited by the 501st in the hospital as well, and that was a real treat. 
While at home I got a lot of figures in the mail, and had some time to do some custom figures.
These Mandalorian Super Commandos are absolutely awesome. I've been using them as custom bases. I've made Pre Vizsla and plan to make a Jango Fett custom. The articulation on these new figures is just so perfect. They are a blast to play with.
Although I had to wait a while it feels like, I finally got the Gaming Greats Arc troopers. They are a neat addition to the collection, but don't strike my fancy as much as the Mauldolorians.
I'll continue to share my recent customs and finds over the next few Tuesdays. I hope to see you tune in often! Thanks for reading. I'm glad to be back writing for you guys, and hope to see greater community engagement each Tuesday.