Welcome back Toy Runners to another fine TRT morning! I got an amazing package of 3d printed goodies from good friend Peak OB1 customs. Take a look by clicking here. Please leave a comment if you've gotten any new Star Wars collectibles in the last couple weeks!
I want to start by saying that I've enjoyed seeing the weekly reports you bring me of your toy hunting and the new collectibles you've added. We've been meeting for nearly 3 years now on Tuesdays! Life brings changes, and lately I find less time and funds for Star Wars toys. I will still be around and post the occasional article, but I wanted to formally announce the end of regular TRT's after the Christmas article.
That being said, I want to share my new toys from the last couple weeks. I got an amazing package with some extras from good friend Chad of Peak OB1 customs. This shot highlights some of the amazing design work he does.
In addition to the large quantity of custom work I now have to do, I got a couple of non Star Wars items. My son and I watched the 1981 Mobile Suit Gundam anime and put together matching gunpla kits. I of course over committed and now I have 3 more models to put together and a few more destroyed buildings coming in the mail…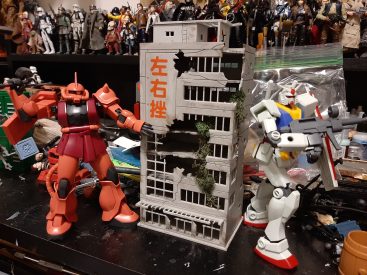 I got a Super7 Reaction figure as well. I hate them. They are terrible 5poa garbage. However… I got this one to tear apart and use the parts for a better articulated custom figure. I hope one day they make TVC quality Willow figures especially since the new show is coming out, but I won't hold my breath. If Hasbro makes figures they will likely be 6″. 
That's it for today everyone! What have you added to your toy collections these last couple weeks? Please share with us in the comments below!