Welcome back to another fine Tuesday my fellow Toy Runners! I hope you had a relaxing holiday weekend (US), and had a successful week collecting! I have a toy photo I took to share with you and a WIP photo of a pair of Tonnika sisters I'm working on. Take a look by clicking here!
First off I just wanted to share a quick photo of a my Kashyyyk Clone I finished and some of my dad's 6″ figures. My toy photography skills aren't super great, but it's a fun way to get out and play with my toys!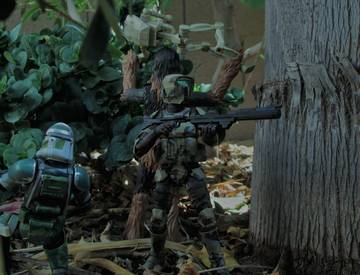 The other hing I wanted to share is a work in progress photo of some Tonnika sisters I am making for someone. I'm happy with how they are turning out! I think I'll order a new emerald green color for the other sister. I still need to make the belt (will use some styrene), and then finish painting everything. Zorii Bliss is a good base for female customs as the detailing on her costume can be sanded off so you have a mostly plain body.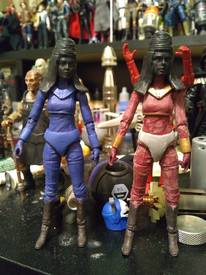 Let's see what you have to share with us from this week in Star Wars! Did you get your TVC Falcon? Preorder any new figures? Please share in the comments below!