This week's edition of TRT is purposely posted late because I had a package just delivered and I wanted to share it so bad I took the time to take it out for a small photo shoot. I also finished a custom Captain Vaughn from last week's Clone Wars episode! Click here to check out the photos from this last week in Star Wars.
First off I wanted to share my custom Captain Vaughn of the 332nd. Sadly he was short lived in the cartoon, but he certainly was figure-worthy! I did add the backpack and rank badge since this photo. 
I was also able to secure a second Phase I Dark Trooper at a very reasonable price, so I now have Thrawn's body guards/training droids. Or at least they stand in for the ones you see in the Rebels cartoon!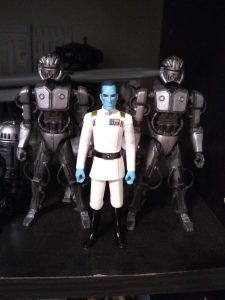 I finally took the time to paint The Child. I'm quite pleased with the result. I wouldn't mind a more accurate one, but this will be quite fine until Hasbro decides to release a 3.75 scale one with a crib.
Lastly, I wanted to share a beautiful piece I got in the mail yesterday. This is an elasmotherium, the ice-age wooly rhinoceros that the mudhorn was based on. I will eventually add some bulk to his horn, but for now he is a fantastic addition to my Mandalorian line-up.
I got some really good stuff this week, and I'm glad I get to share it with you! Please post pictures of your week's acquisitions in the comments below, or on Facebook! Thanks for reading!