Some new details have been revealed about the sequel trilogy that George Lucas would have made, had he not sold the company to Disney. The picture below gives you a hint. Click through for more!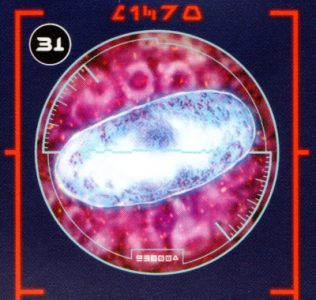 Twitter user Livio Ramondelli posted photos of quotes from a companion book to James Cameron's "Story of Science Fiction" series. There are two quotes by George Lucas, one gives us another hint at what he envisioned for his sequel trilogy, the other gives us Lucas' opinion on how fans would have reacted. But read for yourself:
So… what do you think of this idea?
The idea of a microscopic world on the very small or atomic level is a classic science fiction trope. Actually, Ant-Man was the latest movie to mention this concept with its idea of the quantum realm.
The "Girl in the Golden Atom" short story (later expanded into a novel) by Ray Cummings explored this concept almost 100 years ago. The same Ray Cummings later adapted his story into a two part Marvel comic that introduced the Microverse into the Marvel Comics universe, the same Microverse that will be used for the upcoming Ant-Man movie. Marvel Comics also had the Micronauts for a while. And DC Comics has The Atom.
Then there's Edmond Hamilton's Captain Future who also ventured into a sub-atomic universe. And much more recently Rick & Morty had an entire episode about a microscopic world. So the concept is still popular and holds many possibilities.
But George Lucas is probably right. Had he made his trilogy some fans would have hated this idea too. Midi-Chlorians were one of the most disliked concepts of the prequels.
My opinion: this concept sounds interesting, whatever you think about it, you can tell that the Lucas sequels would have been original. A true continuation of the story, not some soft reboot with new characters (my opinion here only).
Also, I think George Lucas is not too impressed with the story told by the sequels, at least this is how I interpret his "…but at least the whole story from beginning to end would be told" quote.
I can also see why Disney would reject such a high concept story and would rather play it safe.
My hope is that one day either Lucas or someone else will use his notes and concepts and will write a sequel novel that tells the story Lucas wanted to tell.
What do you think about it all? Would you have been excited for a sequel trilogy with an all new, original story and a journey into the microscopic world of – possibly – midi-chlorians and Whills who control the Force and the universe?
Source: Livio Ramondelli's Twitter